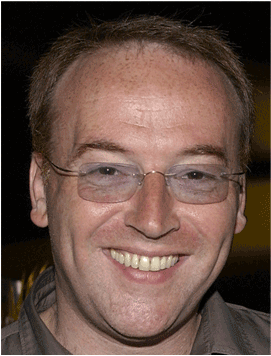 Wouter Barendrecht
Amsterdam, 5 november 1965 - Bangkok, 5 april 2009
Deeply saddened we confirm that Fortissimo's company founder and co-chairman Wouter Barendrecht suddenly died on Sunday April 5 in Bangkok, Thailand.
Wouter's passing has shocked his family, his friends and colleagues around the globe.
His passion for cinema, his vision, his energy and his witty humor will be extremely missed by all of us.

On this Memorial website you can share your thoughts and memories with us.

The Fortissimo Family
| | |
| --- | --- |
| Contactperson: | Chris Paton |
| | chris.paton@fortissimofilms.com |
Memorial services

On Wednesday May 13, during the Filmfestival in Cannes we will celebrate Wouter's life and achievements. For more information about the event, please contact info@fortissimo.nl. Please respect the nature of the event.


| | |
| --- | --- |
| Venue: | Plage des Palmes |
| Time: | 3-4 pm |
To honour Wouter's memory, a foundation has been established. The goal of the Wouter Barendrecht Film Foundation will be to support one of Wouter's key missions and goals during his career and that was to encourage the work of talented young filmmakers. This will be accomplished with award grants to be given out on a yearly basis at festivals that Wouter supported and/or worked at or with during his life.

While Wouter loved flowers, we would ask that if you want to honour him, a contribution to the Wouter Barendrecht Film Foundation would be more appreciated and long lasting.

With the support of Fintage, two depository accounts for the Foundation have been established today; the details of which are listed below:
Account holder:
Fintage CAM BV
Reference:
Wouter Barendrecht Film Foundation
Account number:
NL38 FTSB 0241 490677
Bank:
Fortis Bank Nederland N.V.
Blaak 555
3011 GB Rotterdam
The Netherlands
Bic Code:
FTSBNL2R
Account Name:
Fintage Collection Account Management B.V.
Reference:
Wouter Barendrecht Film Foundation
Account number:
368-0-066881-9
CA Bank:
Standard Chartered Bank
(Hong Kong) Limited (003)
4-4A Des Voeux Road Central, Hong Kong
Swift Code:
SCBLHKHHXXX
Jean Heijl
Dear all, Also on behalf of Charles and Clement van Droffelaar, our condolences with this terrible loss of a great, fantastic and wonderfull man. Thanks to Wouter I learned a lot from the independent film industry. Í will miss his great personality and humour and will think of him as a good friend. Personal warmest regards, Jean Heijl Moonlight Films- The Netherlands.
Lillian Kibedi
what a great loss. Words can not express the shock at learning of his passing. He was such a great friend and will be missed terribly. Lillian
Anke van Loon
Dag lieve Wouter. Rust maar zacht. In gedachten ben ik bij je vader en je moeder, je broers, Nelleke en bij allen die hen lief zijn. Ik wens hen sterkte toe, deze dagen en later. En de kracht om dit verlies te dragen. Dank voor je vriendschap, Wout, je trouw aan oude vriendschappen, met name in een andere, verdrietige tijd in het verleden. Dank dat ik je mocht kennen. Je was me dierbaar.
Luca Vasile
Dear Wouter, You will be missed, farewell! Luca
Liz Watts
Darling Wouter- you were a dear friend and an inspirational colleague - working with you was always working with family. Your loyalty, originality, honesty & absolute naughtiness at times, and your passion for cinema and life itself has always been, and will always be such a great inspiration. I simply can't fathom not seeing your smile again, but know it will always be in my heart. My deepest sympathy for everyone at Fortissimo and Wouter's family. xx
Dirk de Graaff
Dear Wouter, I will miss you deeply, our talks, messages, dinners, laughs. U were a true friend. I still cant believe that I wont see you anymore. Love to all of his friends
Heather Mansfield
Dear Wouter. Wherever in the world we met, the sun always shone. This Cannes I will sit on the Grand terrace, close my eyes and let the sun bake through. God bless. You will always be here.
Sylvain Auzou
More than anything else you achieved, I admire this large family, crossing continents, you entertained and developped through this "bubble" business.... It is an example for me. My dear Wilhelmina...! I will keep your spirit in mind.
Henriette Gutmann
My sincere condolences to Wouter's family, friends and the whole team at Fortissimo. I wish you all strength to come to terms with this huge loss that came by far to early. He will continue to live through his actions and visions and the films he left here for us.
Göteborg International Film Festival
Allt our thoughts are with Wouter, his family, friends and colleagues. We will miss our long and inspiring cooperation and a passionate person with true love for the art of film and its importance for the human being and for the world. Thank you Wouter.
Bernie Stampfer
Wouter, here's for you. If I could I sang you a song, you know: Take me to the station and put me on a train I've got no expectations to pass through here again Once I was a rich man and now I am so poor But never in my sweet, short life have I felt like this before. Your heart is like a diamond, you throw your pearls at swine. And as I watch you leaving me, you pack my peace of mind.... We miss you, Bernie
Eric Lagesse
I always loved your jokes my dear Wouter but that one is no good. I'll keep in mind all the others. I'm gonna miss you, my pédé favori.
JALLADEAU ALAIN FESTIVAL DES 3 CONTINENTS
Wouter… It's really unbelievable. I still cannot realize that I'll not have the pleasure anymore to share with you your "joie de vivre", your enthusiasm and your humour. I will miss you very much, dear Wouter. All my deep sympathy to his family, his friends, and the Fortissimo team.
John Akomfrah
Wouter, you brought, grace, elegance and inspiration to the work at hand. We will all miss you deeply.
Jacinta Hin (Tokyo)
Although we had not met for a while, knowing Wouter was there in this life, active, doing all those amazing things he did, enriching the world, made a difference. His death leaves a void and stirs great memories of his early visits to Asia and Japan, where I had just moved, of the discoveries we made and the moments we shared.
Joan Chen
I am shocked beyond words at hearing the sad news of Wouter's passing. It was only in late March that I saw him in Hong Kong. In the past few years, Wouter introduced me to two scripts and their wirter directors. One is The Sunflower in China, and the other is The Home Song Stories in Australia. In both films I played the film makers' mothers. I enjoyed my experiences tremendously during the making of the films, with the film festivals that they took me to, and the awards that I won for the part of Rose. Everytime I saw him, we always talked about some new possibilities of making a film together. His passion for films would rekindle mine, taking me out of the comfortable housewife/mommy complacency. I will miss you very much, my dear friend!
Gilky Wan
Too shock and too sad to hear your leaving us and really don't know what to say. Rest in peace...
Tetsu Fujimura
It is just so hard to accept this sudden loss. It was just few weeks ago when we had a chat in Hong Kong. What a tremendous loss to the film industry. We will miss him so much. We also would like to extend our deepest condolences to Michael and Fortissimo Team and Wouter's Family.
Mihai Chirilov (Transilvania International Film Festival)
We missed each other in Berlin this year, and now I'll miss you forever. I'm so sorry that my answer to your last text message - "Drinks for sure in Cannes, ok?" - is no longer valid. Thanks so much, Wouter, for everything.
Heidi Lobato
deeply shocked - far too young and so unfair - we like to express our deepest condolances to his family, friends , colleagues all over the world and wish you all strenght with his loss - rest in peace Wouter - team Africa in the Picture
<< Previous
1
|
2
|
3
|
4
|
5
|
6
|
7
|
8
|
9
|
10
|
11
|
12
|
13
|
14
|
15
|
16
|
17
|
18
|
19
|
20
|
21
Next Page
---