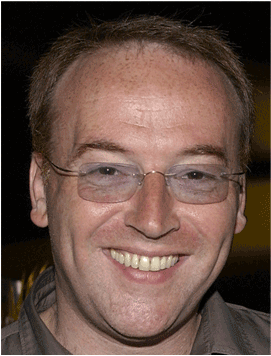 Wouter Barendrecht
Amsterdam, 5 november 1965 - Bangkok, 5 april 2009
Deeply saddened we confirm that Fortissimo's company founder and co-chairman Wouter Barendrecht suddenly died on Sunday April 5 in Bangkok, Thailand.
Wouter's passing has shocked his family, his friends and colleagues around the globe.
His passion for cinema, his vision, his energy and his witty humor will be extremely missed by all of us.

On this Memorial website you can share your thoughts and memories with us.

The Fortissimo Family
| | |
| --- | --- |
| Contactperson: | Chris Paton |
| | chris.paton@fortissimofilms.com |
Memorial services

On Wednesday May 13, during the Filmfestival in Cannes we will celebrate Wouter's life and achievements. For more information about the event, please contact info@fortissimo.nl. Please respect the nature of the event.


| | |
| --- | --- |
| Venue: | Plage des Palmes |
| Time: | 3-4 pm |
To honour Wouter's memory, a foundation has been established. The goal of the Wouter Barendrecht Film Foundation will be to support one of Wouter's key missions and goals during his career and that was to encourage the work of talented young filmmakers. This will be accomplished with award grants to be given out on a yearly basis at festivals that Wouter supported and/or worked at or with during his life.

While Wouter loved flowers, we would ask that if you want to honour him, a contribution to the Wouter Barendrecht Film Foundation would be more appreciated and long lasting.

With the support of Fintage, two depository accounts for the Foundation have been established today; the details of which are listed below:
Account holder:
Fintage CAM BV
Reference:
Wouter Barendrecht Film Foundation
Account number:
NL38 FTSB 0241 490677
Bank:
Fortis Bank Nederland N.V.
Blaak 555
3011 GB Rotterdam
The Netherlands
Bic Code:
FTSBNL2R
Account Name:
Fintage Collection Account Management B.V.
Reference:
Wouter Barendrecht Film Foundation
Account number:
368-0-066881-9
CA Bank:
Standard Chartered Bank
(Hong Kong) Limited (003)
4-4A Des Voeux Road Central, Hong Kong
Swift Code:
SCBLHKHHXXX
Marion Hänsel.
We will miss so much your smile, your sense of humour,your energy, and your comunicative love for cinema.
David Lee
This is indeed very sudden and shocking. Independent cinema has lost a champion and a dear friend. We can only hope that his legacy and good work can be continued by those who shared his passions.
Dana Duijn
I still can't believe it. My thoughts go out to family, friends and the Fortissimo's.
Jean-François Deveau
We are still deeply shocked by this tragic news. Wouter was a gentleman and his sudden death is a great loss for the whole independent family. We will miss him a lot. Condolences to his family, his friends and all the Fortissimo team.
Sun Koh
There is nothing more to say. We can only continue with your vision. I'm sorry I didn't get to meet you in this life. Om Shanti.
Michael Ryan
Cannes without Wouter, unimaginable. I'm sure we will all raise a glass in his memory. The photo says it all. We will all miss that openess and keen wit. Wouter was the epitome of the Indepedents. We'll miss him terribly. With love to Michael, Nicole, Winnie and the rest of the team . Michael Ryan.
Jay Lin
You have been my inspiration to live out loud, my introduction to the film world, and my affirmation that truly talented, generous and humble people exist whom i can call friends for life. Thank you for making such a big impact in my life. Flashbacking through all the events over the past 9 short years, and pausing often with a big smile on my face. You are sorely missed by those of us still here who will continue to love you always.
Miyuki Takamatsu, TBS Television
How pity to realize his great contribution for Asian cinema after his tragety... We have to carry on his will and strong passion for cinema. Thank you very much, Wouter san. Rest in peace.
Brice Pedroletti
I didn't know Wouter much, but the films he championed with Fortissimo are films I very much like and respect. All my condoleances to Fortissimo's team, his friends an family.
Amy Israel
You have touched our lives and we will never be the same.
Frits and Mary Vett
farewell to our nephew - a brilliant man in his field. our hearts go out to all the family. thinking of you with love. Dear Wouter after Werner's visit to our shores, we had hopes to meet again and welcome you to our life, unfortunately fate decided different and we are left with the memories of Madrid and Spain when all of you were young and starting your lives. We all feel very sad for all the family.
Chrissi and Paul and Seth Vett Joice
Dearest Coz- you will be sorely missed. Our constant love to all the family. It is a ad day for us all.
Joan Dupont
Our dear Wouter, partner in so many ventures, friend forever, we miss you. We won't have our dinner on the eve of the Cannes Festival, we won't have our laughs. The loss is sad and shocking. What a partner! What a friend! Our love is with you and your love is with us.
Arianna Bocco
I am deeply saddened by the loss of such an amazing man and my heartfelt thoughts go out to his family, friends and his family at Fortissimo. When I first told Wouter that I was invited to Hong Kong for Filmart and had never been to Asia, he said Don't worry, I'll take care of you. For all of those that you took care of and for all of those that you supported and championed, you will be fondly remembered and sorely missed. Rest in peace.
Ellen and Robbie Little
We are shocked and saddened by Wouter's sudden passing. Our hearts go out to Michael, Wouter's Fortissimo family, and all his many friends whose lives have been so deeply touched by his charismatic spirit.
Basil Gelpke
Very saddened by Wouter's sudden departure.
Peter Loehr
This is so shocking and impossible to believe that I just don't know what to say. Please accept and also pass my deepest condolences and prayers to Wouter's loved ones. Wouter was such an amazing person, advocate and friend that is impossible to imagine, much less speak of this loss. We must take solace in the fact that he lived with such passion, was loved by so many and after 19 years believed truly in what he did every day.
Patrick Frater
Independent cinema has lost one of it greatest names. And I've lost one of my greatest friends. Neither will be the same without you.
Lisa Eastman
I remember the first email we exchanged in relation to the IFTA Board. I could hardly wait to meet you in person after all your nice correspondence! Your smile and kind soul will always be remembered. Thanks for being YOU, so genuine. Deepest Regards to your family and Team Fortissimo .
Gorjan Tozija
Big brave person,will be missed to all in industry!
<< Previous
1
|
2
|
3
|
4
|
5
|
6
|
7
|
8
|
9
|
10
|
11
|
12
|
13
|
14
|
15
|
16
|
17
|
18
|
19
|
20
|
21
Next Page
---