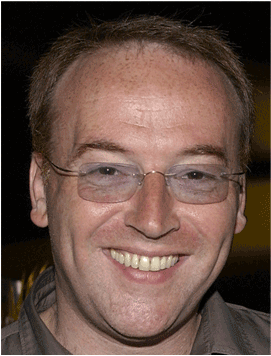 Wouter Barendrecht
Amsterdam, 5 november 1965 - Bangkok, 5 april 2009
Deeply saddened we confirm that Fortissimo's company founder and co-chairman Wouter Barendrecht suddenly died on Sunday April 5 in Bangkok, Thailand.
Wouter's passing has shocked his family, his friends and colleagues around the globe.
His passion for cinema, his vision, his energy and his witty humor will be extremely missed by all of us.

On this Memorial website you can share your thoughts and memories with us.

The Fortissimo Family
| | |
| --- | --- |
| Contactperson: | Chris Paton |
| | chris.paton@fortissimofilms.com |
Memorial services

On Wednesday May 13, during the Filmfestival in Cannes we will celebrate Wouter's life and achievements. For more information about the event, please contact info@fortissimo.nl. Please respect the nature of the event.


| | |
| --- | --- |
| Venue: | Plage des Palmes |
| Time: | 3-4 pm |
To honour Wouter's memory, a foundation has been established. The goal of the Wouter Barendrecht Film Foundation will be to support one of Wouter's key missions and goals during his career and that was to encourage the work of talented young filmmakers. This will be accomplished with award grants to be given out on a yearly basis at festivals that Wouter supported and/or worked at or with during his life.

While Wouter loved flowers, we would ask that if you want to honour him, a contribution to the Wouter Barendrecht Film Foundation would be more appreciated and long lasting.

With the support of Fintage, two depository accounts for the Foundation have been established today; the details of which are listed below:
Account holder:
Fintage CAM BV
Reference:
Wouter Barendrecht Film Foundation
Account number:
NL38 FTSB 0241 490677
Bank:
Fortis Bank Nederland N.V.
Blaak 555
3011 GB Rotterdam
The Netherlands
Bic Code:
FTSBNL2R
Account Name:
Fintage Collection Account Management B.V.
Reference:
Wouter Barendrecht Film Foundation
Account number:
368-0-066881-9
CA Bank:
Standard Chartered Bank
(Hong Kong) Limited (003)
4-4A Des Voeux Road Central, Hong Kong
Swift Code:
SCBLHKHHXXX
Lasse Saarinen
Dear Wouter, you helped me a lot back in early nineties when you and Helen ran the show on your own. Thank you for those years. You will be missed.
Egon Nieser
Dear Wouter, we all at Arsenal Filmverleih will miss you. Rest in peacce.
Esther Bannenberg
Your generosity, energy, ever disarming presence… lots of people have learned lots from you and you connected many different people and worlds… on your best days you were a charming tornado shaking up the world… you didn't go wasting your emotion and laid all your love on us… safe travels wouter
Megan McMurchy
Dear Wouter, met you first at L&G film festival in Amsterdam in 1991, you and Helen were just setting up then. So many years later you helped me and Khoa Do get our film made. Thank you for your critical insight, humour and wonderful enthusiasm, your love of cinema. You will be so missed by so many friends.
Ernst Szebedits
I was deeply shoked reading the news on my mobile yesterday and I still can't believe it. I will really miss you, Wouter! My deep condolences for the whole Fortissimo family.
Jeremy Nathan
We are shocked to the core here in Southern Africa. Wouter touched and taught us all immensely, in so many ways, a champion and visionary pioneer of world cinema, a vital and wonderful human being. Stolen from us and the world far too early, we mourn his passing with great sadness. Our deepest thoughts for your family, friends and Fortissimo crew.
pier paolo zerilli
I would like to be close to the common friends I know loved him and will miss him, and to honour the memory of a great lover of cinema
Philip Lee
Wouter, I was shocked to read the news from my blackberry at a KFC here in Beijing today. I could not believe it. Your smile and laughter will be missed for a long time to come. Your contribution to the Asian film industry is enormous.
Arda Nederveen
My deep condolences for Hans, Wim en Reinier.
Marit
Years ago a little scared of you working as intern for CineMart, but from the beginning you were a great example and inspiration and you became a friend . I am proud to continue what you helped create, even though we never worked together. Your passion and love for cinema will be missed here in Rotterdam and especially your commitment to CineMart. I wish there had been more time.. "He who does not travel, does not know the value of man" You certainly proved that. Lots of strength to family, friends and all Fortissimo friends. Love Marit
Tom Abell
I remember those days when it was just Wouter and Helen running the show from their apartment in Amsterdam. We didn't have e-mail then, so had to fax each other our votes for the Eurovision Song Contest. Although we would always chat business at markets it's about three years since I sat down with Wouter and had a really long one to one chat and catch up, I was passing through Hong Kong and it was the first time in years that we'd shared a meal and talked properly as friends, it seems like such a long time ago. I really was in shock when I heard the news and share my sorrow with all of you who loved him.
Esther Yeung Uchino
When I caught the smell of your perfume in the elevator, I knew that you arrived office 5 minutes or less earlier than me. When I saw no more Perrier in the fringe, I realized you had a good break between festivals. When we found small cutie gifts on our desk, we knew you're back from a trip. I also missed your chains of emails, funny sms and snapshots… all the small pieces of fun in life you brought built up a better world for us. I know more about film business and more about life here at Fortissimo. I have learnt so much from you and I wish I could have learnt more…
Edith Grant
I'm so grateful we met, it was always heartwarming to spend time with Wouter, and fun, and inspiring, and respectful. My deepest sympathy to Wouter's family and close friends.
ROSEBUD - Greece
We are truly astonished to find out about the loss of Wouter Barendrecht. Please, accept our heartfelt sympathy and deep condolences for such a horrible event. The Rosebud Team Greece
Apichatpong Weerasethakul
Wouter... one light is gone, but not missing. It is traveling somewhere beautiful. You have created and inspired so many lights in cinema. These magic lanterns will accompany you across borders. So I know you will not be lonely. I hope to see you in the future. Don't forget to say hi.
Jimmy Peh
Wouter, your gregariousness and laughter will be dearly remembered and missed. Those happy times that we all shared will be our beautiful memories of you. Good journey my dear...you will be deeply missed....
THESSALONIKI INTERNATIONAL FILM FESTIVAL
Our deepest condolences to Wouter's family, friends and colleagues at Fortissimo. His spirit will live on in the people he worked with and loved; and in all the great filmmaking that happened because of his support and insight. All of us at the Thessaloniki Film Festival will cherish the memories of all our collaborations with Wouter, which were always rewarding, warm and utterly human. He will be greatly missed.
Shunji Iwai
Hi, Wouter. I heard sad news about you. I can't believe it. I don't want to believe. I have to tell you thank you very much for following my works and introduce them to the people all over the world. Thanks a lot. I miss you. (I also sent this message to your computer)
jacqueline liu
Hard to put the feelings to words, you are such a good mentor, the most resourceful and helpful advisor and the best database ever. You are everything. Miss you. RIP.
NOUCHI Claude
It is a very sad news we have lost a very good professional and friend all my sympathy to his family and friends, Claude Nouchi COLIFILMS DIFFUSION
<< Previous
10
|
11
|
12
|
13
|
14
|
15
|
16
|
17
|
18
|
19
|
20
|
21
|
22
|
23
|
24
|
25
|
26
|
27
|
28
|
29
|
30
Next Page
---