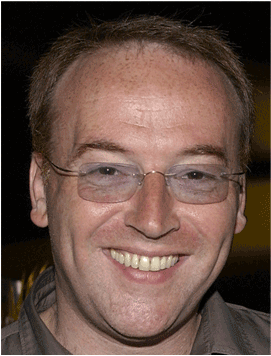 Wouter Barendrecht
Amsterdam, 5 november 1965 - Bangkok, 5 april 2009
Deeply saddened we confirm that Fortissimo's company founder and co-chairman Wouter Barendrecht suddenly died on Sunday April 5 in Bangkok, Thailand.
Wouter's passing has shocked his family, his friends and colleagues around the globe.
His passion for cinema, his vision, his energy and his witty humor will be extremely missed by all of us.

On this Memorial website you can share your thoughts and memories with us.

The Fortissimo Family
| | |
| --- | --- |
| Contactperson: | Chris Paton |
| | chris.paton@fortissimofilms.com |
Memorial services

On Wednesday May 13, during the Filmfestival in Cannes we will celebrate Wouter's life and achievements. For more information about the event, please contact info@fortissimo.nl. Please respect the nature of the event.


| | |
| --- | --- |
| Venue: | Plage des Palmes |
| Time: | 3-4 pm |
To honour Wouter's memory, a foundation has been established. The goal of the Wouter Barendrecht Film Foundation will be to support one of Wouter's key missions and goals during his career and that was to encourage the work of talented young filmmakers. This will be accomplished with award grants to be given out on a yearly basis at festivals that Wouter supported and/or worked at or with during his life.

While Wouter loved flowers, we would ask that if you want to honour him, a contribution to the Wouter Barendrecht Film Foundation would be more appreciated and long lasting.

With the support of Fintage, two depository accounts for the Foundation have been established today; the details of which are listed below:
Account holder:
Fintage CAM BV
Reference:
Wouter Barendrecht Film Foundation
Account number:
NL38 FTSB 0241 490677
Bank:
Fortis Bank Nederland N.V.
Blaak 555
3011 GB Rotterdam
The Netherlands
Bic Code:
FTSBNL2R
Account Name:
Fintage Collection Account Management B.V.
Reference:
Wouter Barendrecht Film Foundation
Account number:
368-0-066881-9
CA Bank:
Standard Chartered Bank
(Hong Kong) Limited (003)
4-4A Des Voeux Road Central, Hong Kong
Swift Code:
SCBLHKHHXXX
Matt Brodlie
It was devastating to wake up on Sunday to phone messages about this tragic loss. Wouter's energy was amazing. He achieved so much, inspired so many, and will be missed by everyone in our international film community. Professionally, he is unequaled in the work he did. Personally, I love his curiosity and zest for life - To my question "Why go to North Korea?" he answered, "Why not - they invited me and I've never been there." From his 40th birthday festivities in Bangkok; to dinners and karaoke all over Asia; to fun on the festival circuit; he was a great guide and friend. Always supportive to so many people. Always with a good tip about a film, a director, a local bar. Always with a smile and a sly twinkle in his eye. My thoughts are with his family, his colleagues at Fortissimo, and all of us in his film family.
OKAJIMA Katsuki
I still could not believe the news that he's no longer here with us on this planet. Wouter is my best buddy who I used to hang around in Amsterdam bars and restaurants in the 90s. Wouter is my best friend whose success in film business I have been so glad about and truly proud of. Since he loved cinema. Since cinema was his life. Since I got this news, I have felt some pain in my chest. Seems my mind doesn't know how to grieve him but my body does. Katsuki
Marc van Warmerdam
Wouter hield van film, maar hij hield bovenal van mensen daarom zal hij zo gemist worden. Wouter loved film, but above all he loved people that's why he will be missed so badly
Naoko Tsukeda
I just cannot believe it. Still cannot accept it. Because he has been always full of life, passion, love and fun. We are good friends and he has been always very kind and nice to me and my family. Actually I own him a lots of introductions and friendship in the film industry. I regret that I could not join the DETOX tour in Thailand with him and Winnie a few years ago. It should have been fun and I could lose my weight! Again, I have to learn that the life is not fair. I miss him so much.
Cameron Bailey
I was only just getting to know him better, but I'm grateful for what he showed me: grace, wisdom, patience, the spectacular view from his Hong Kong apartment (and the word "Hongkers"). Then there was the magic of his new Leica, his thrill at touring a Cuban cigar factory, and a welcome entry into his global circle. I must be one of thousands...
Pien Niehe
Ik ben geschokt en verdrietig. Dag Wouter.
mjpeckos
I feel extremely lucky to have known Wouter. He was a consummate pro, always warm and funny and he has left us much too early. My condolences go out to his family and colleagues. He will be missed deeply.
Stephan Giger
Dear Wouter, when we were attending Pyongyang Film Festival last September, you told me, that every year, you try to go to one extra-ordinary festival on this planet. You wore your T-shirt from the Vladivostok Festival and you wanted to get one from the one in Ougadougu…If I'll ever make it there, be assured I'll fetch one for you. I will never forget you. Cheers, Stephan
Laurie Woodrow
It's so hard to believe Wouter is gone. I still expect to see his smiling face in Cannes next month. There is a huge void not only in the industry but in the hearts of all who knew him. My hope is that in time our memories of Wouter, and the work of those he supported and inspired will begin to fill that void. My heartfelt condolences to the entire Fortissimo family.
Leslie Urdang
My heart goes out to everyone at Fortissimo and the friends and family of Wouter. He brought a rare joy and enthusiasm to work and to life and he will be so missed. I feel grateful to have had the pleasure of some time with him.
Alejandra Paulín
Thanks for your kindness in all the moments, I'm absolutely sure you'll be living with your passion among us.
Michael Eckelt, Riva Film
I cannot believe it! Whenever I saw him he was so full of life, love and energy. Michael
Jakub Duszynski, Gutek Film
Thank you for introducing me to so many great films, thank you for the very first retrospective of Asian cinema in Poland (years ago) you helped me to prepare. Thank you for so many titles we released together over the years (one is coming up to our cinemas in less than a month!). I will remember you and I will miss you.
Madeleine Molyneaux
The measure of man--perhaps the company he keeps, in art and in life. Great taste, great class, great humor, great introductions, great redhead! You deep blushed in a Toronto elevator last year when someone mentioned your upcoming tribute. May your Film Foundation continue to expose new lights in the darkness.
irma ipenburg
wouter,zo lang niet gezien en toch zo dichtbij mijn hart hoe abrupt ben je een andere weg gegaan waar we helaas niet kunnen volgen wat een erfenis laat je na dat je liefde en humor lang mogen doorklinken in die je gekend hebben hans en wim ,werner en reinier met gezin,blijf staan en luister:zijn nieuwe realiteit is naast de onze, vooral voor jullie sterkte om door te gaan,liefs irma
Kajsa Hedström
Dear, dear Wouter, you were one of the first I met in the international film business around 1990 and thought you were much older than me with all the experiance and contacts you had already but realised when celebrating your 30th birthday at Mifed 1995 that you were only one month older. No words can describe your importance, kindness and friendship throughout the years, a massive loss for us all, I will always remember your smile followed by three kisses (the dutch way you said). My thoughts are with your family, friends and Fortissimo. Love from Kajsa
Liesbeth van Biezen
Diep geraakt door je plotseling overlijden, Wouter! Condoleances aan al je dierbaren: familie, vrienden en collega's. Sterkte met het verwerken van dit enorme verlies.
Jorge Ramirez Suarez
Rest in peace, all independent filmmakers will miss you.
Sharog J. Manesh
How shocking and what a great loss…By only reading the messages below, you'll find out how special Wouter was and still is and what he means to many people around the world and to the international film industry. My deepest condolences to Wouter's family, friends and colleagues. Rust zacht Wouter.
Jan Rofekamp
I just cannot believe it. So sad..so sad....During the last days of Idfa at the end of November, I ran into Wouter in a small Thai restaurant in Amsterdam and at one moment he send me part of his fish dish saying that this is the best fish in the world....I moved over and we had some wonderful moments. Lucky me to have lived this moment. Unlucky world to sadly lose such a great, generous and sweet human being. What Wouter has accomplished cannot be undone and his vision will live forever!
<< Previous
6
|
7
|
8
|
9
|
10
|
11
|
12
|
13
|
14
|
15
|
16
|
17
|
18
|
19
|
20
|
21
|
22
|
23
|
24
|
25
|
26
Next Page
---