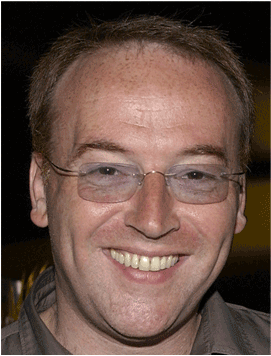 Wouter Barendrecht
Amsterdam, 5 november 1965 - Bangkok, 5 april 2009
Deeply saddened we confirm that Fortissimo's company founder and co-chairman Wouter Barendrecht suddenly died on Sunday April 5 in Bangkok, Thailand.
Wouter's passing has shocked his family, his friends and colleagues around the globe.
His passion for cinema, his vision, his energy and his witty humor will be extremely missed by all of us.

On this Memorial website you can share your thoughts and memories with us.

The Fortissimo Family
| | |
| --- | --- |
| Contactperson: | Chris Paton |
| | chris.paton@fortissimofilms.com |
Memorial services

On Wednesday May 13, during the Filmfestival in Cannes we will celebrate Wouter's life and achievements. For more information about the event, please contact info@fortissimo.nl. Please respect the nature of the event.


| | |
| --- | --- |
| Venue: | Plage des Palmes |
| Time: | 3-4 pm |
To honour Wouter's memory, a foundation has been established. The goal of the Wouter Barendrecht Film Foundation will be to support one of Wouter's key missions and goals during his career and that was to encourage the work of talented young filmmakers. This will be accomplished with award grants to be given out on a yearly basis at festivals that Wouter supported and/or worked at or with during his life.

While Wouter loved flowers, we would ask that if you want to honour him, a contribution to the Wouter Barendrecht Film Foundation would be more appreciated and long lasting.

With the support of Fintage, two depository accounts for the Foundation have been established today; the details of which are listed below:
Account holder:
Fintage CAM BV
Reference:
Wouter Barendrecht Film Foundation
Account number:
NL38 FTSB 0241 490677
Bank:
Fortis Bank Nederland N.V.
Blaak 555
3011 GB Rotterdam
The Netherlands
Bic Code:
FTSBNL2R
Account Name:
Fintage Collection Account Management B.V.
Reference:
Wouter Barendrecht Film Foundation
Account number:
368-0-066881-9
CA Bank:
Standard Chartered Bank
(Hong Kong) Limited (003)
4-4A Des Voeux Road Central, Hong Kong
Swift Code:
SCBLHKHHXXX
Skye Dent
Wouter was someone I met years ago at a San Francisco film seminar. Although I was never able to get my films produced, one of the reasons I never gave up was because of the encouragement he gave me. I was always able to call or e-mail him directly, no matter what country he was in. He always responded. I know others knew him from business dealings, or remember him for times spent in relation to his runnign Fortissimo Films. But, I knew him as a compassionate, humanistic person who repeatedly took the time to talk to an unknown writer-producer in the midst of Hollywood madness. I don't think he ever knew how much his kind gestures meant to me. Heartbroken, Skye Dent Please let me know if there will be some sort of memorial for him here in Los Angeles.
Adolfo Blanco
Dear Wouter, thanks for everything! I keep praying and am sure we will meet again in the Next Life. All the best to all the friends at Fortissimo, Adolfo
Roy Wadia
My condolences to Wouter's family and friends around the world. I had hoped to meet him and to work with him, and now it is not to be. He knew my late brother Riyad Wadia of Wadia Movietonewell; both talents gone now, and the world of cinema is the poorer.
Jane Giles
A lovely, generous man, who sold us some really wonderful films, which we distributed & exhibited the best we could to audiences whose lives were enrichened, although they probably never knew his name. Please give my condolences particularly to Michael, and to Wouter's mother.
Tony Ayres
Like so many people all around the world, I loved Wouter. Even though I only saw him once or twice a year, he had a genius for making you feel special. And a passion for staying in touch- an email from his blackberry from an airport lounge, a gossipy sms between meetings, a facebook message from the office. If anyone could be everywhere at once, it was Wouter. I will miss him in many ways- as a friend, as a colleague, as a confidante. The world feels like a darker and more burdened place without him.
Sandy Mandelberger, International Media Resources
I join my international colleagues in mourning the loss of Wouter. When I last saw him at this year's Berlin Film Festival, he was, per usual, crazy busy to the max, but when we spoke for a few precious minutes, he made sure to direct his full energy to me. In a film world where people are often distracted, he was one of the few to make real eye contact and make a point of connecting. I vividly recall, when he was still living and working in Amsterdam, how he would open up his office and his home whenever I was passing through. I always have thought of him as a class act, and will miss his smile, wicked sense of humor and the sense that he gave me of being part of a greater community. Farewell Wouter........
Michael Le Van (Dennis' brother)
Wouter, i always remember our great and nice conversations (private/work etc) in the mid 90's when i got to know u here in Amsterdam... I 'bumped' into u several times in BKK, the last time was last year as far as i remember... I just cannot believe that u are gone now... Who knows we will 'bump' into each other again, now that u have wings... Please say hi when u see me in the sky..., u know what i mean.... Family and relatives of Wouter; My sincere condoleances. Please be strong in these dificult times...
Ulrich and Erika Gregor
Dear parents of Wouter, dear friends, we are so very sad about Wouter's passing away and we still cannot quite believe it. We had lunch with him last Thursday (April 2) in Hong Kong and he was in such a good mood – we were talking at great length not only about film but also about politics, and of course about future plans, about Cannes and which films we will see there… We knew Wouter since 1988 when he started to work with us at the Forum in Berlin as a "Praktikant" who very soon became a very much liked and valuable colleague; he especially looked after our HK guests, amongst them King Hu, Maggy Cheung, Wong Kar Wai – and made them feel at home at the festival. We only wish we could meet him again in four weeks ! Ulrich and Erika Gregor, with Christine and Milena, Berlin
Elspeth Tavares
A great loss to the art cinema, a great individual, a generous person with a unique spirit that said little but has voiced so much. Lost in the 'physical' but his spirit strength of character and enthusiasm will live on. Greatly admired, a loss for true independents worldwide
Miroslav Beinhauer
I am very sad from tragic note. Wouter Barendrecht continue very talented man.
Katharina Otto-Bernstein, Film Manufacuturer's Inc.
In shock and disbelief I would like to convey my deepest sympathies to everyone at Fortissimo and to Wouter's family. Dear Wouter, getting to know you has been transformative and a genuine enrichment on every level. We will always remember your intelligence, sensitivity, curiosity and open mindedness, coupled with a great sense of humor. We will always remember Brunch in the Hamptons.
Mark Schilling
Wouter, thank you for always being welcoming and kind to a mere trade journo and, later, a guy with yet another movie pitch. Thank you also for lendng us your brilliant presence at Udine last year. Otsukaresan.
Julie Kroll
My condolences to Wouter's friends and family....
Rita and Faruk Alatan
It is hard to believe and accept the news of Wouter's untimely death. I am grateful for the time I had working with him. Most of all, we will miss him as our friend. Our most heartfelt condolences. Faruk and Rita
Elizabeth Redleaf
Wonderful, dear Wouter. Always smiling, always welcoming and always supportive to those who were privileged to know him. The shock of his passing will never be allayed by time nor temper our appreciation of his talents, his charisma and vision, which he so generously shared with us all.
Jolieke van der Haar
In gedachten zie ik je steeds voor me als jong studentje in Utrecht. Wat een groots leven heb jij geleefd sindsdien. Veel sterkte aan de ouders en familie en aan alle mensen van Fortissimo.
Gadi Wildstrom, Freeway Entertainment
Words can not express how we felt when we learnt that Wouter had passed away. We wish his family and friends a lot of strength during this very dark period. Wouter, het was een eer je gekend te hebben.
Mark Pogachefsky
My condolences to all of Wouter's friends and family. He was an integral and much loved part of both our art and industry. His talent and passion will be sorely missed.
Simona Benzakein
I am still profoundly shocked by Wouter's death, and the grief I feel is great. There are many things to say of him, but it would be redundant. I want to remember him in the sun, with his wonderful shirts,his love of life and film, but above all people, and the warmth he gave me in all our years of friendship. So Wouter, here's to you, a goodbye we always shared and said together, "bisous bisous", which will forever, like you, stay in my heart. I love you, Simona
Rudy Tjio
Wouter, Good Bye, I will miss you for the rest of my life.
<< Previous
1
|
2
|
3
|
4
|
5
|
6
|
7
|
8
|
9
|
10
|
11
|
12
|
13
|
14
|
15
|
16
|
17
|
18
|
19
|
20
|
21
Next Page
---