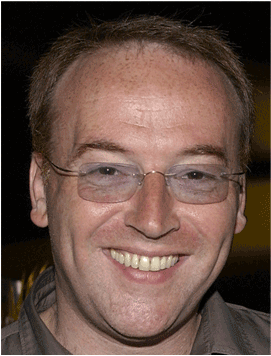 Wouter Barendrecht
Amsterdam, 5 november 1965 - Bangkok, 5 april 2009
Deeply saddened we confirm that Fortissimo's company founder and co-chairman Wouter Barendrecht suddenly died on Sunday April 5 in Bangkok, Thailand.
Wouter's passing has shocked his family, his friends and colleagues around the globe.
His passion for cinema, his vision, his energy and his witty humor will be extremely missed by all of us.

On this Memorial website you can share your thoughts and memories with us.

The Fortissimo Family
| | |
| --- | --- |
| Contactperson: | Chris Paton |
| | chris.paton@fortissimofilms.com |
Memorial services

On Wednesday May 13, during the Filmfestival in Cannes we will celebrate Wouter's life and achievements. For more information about the event, please contact info@fortissimo.nl. Please respect the nature of the event.


| | |
| --- | --- |
| Venue: | Plage des Palmes |
| Time: | 3-4 pm |
To honour Wouter's memory, a foundation has been established. The goal of the Wouter Barendrecht Film Foundation will be to support one of Wouter's key missions and goals during his career and that was to encourage the work of talented young filmmakers. This will be accomplished with award grants to be given out on a yearly basis at festivals that Wouter supported and/or worked at or with during his life.

While Wouter loved flowers, we would ask that if you want to honour him, a contribution to the Wouter Barendrecht Film Foundation would be more appreciated and long lasting.

With the support of Fintage, two depository accounts for the Foundation have been established today; the details of which are listed below:
Account holder:
Fintage CAM BV
Reference:
Wouter Barendrecht Film Foundation
Account number:
NL38 FTSB 0241 490677
Bank:
Fortis Bank Nederland N.V.
Blaak 555
3011 GB Rotterdam
The Netherlands
Bic Code:
FTSBNL2R
Account Name:
Fintage Collection Account Management B.V.
Reference:
Wouter Barendrecht Film Foundation
Account number:
368-0-066881-9
CA Bank:
Standard Chartered Bank
(Hong Kong) Limited (003)
4-4A Des Voeux Road Central, Hong Kong
Swift Code:
SCBLHKHHXXX
Yukie Kito
Dear Wouter, I can't thank you enough for the great memories. I will miss you so much. My thoughts are with your family and your Fortissimo family. Fortissimo will go forward with great films.
Stella Kehagia
i am so deeply shocked by this, cannot believe that a man with such a heart, humor and energy will not be with us anymore. my deep condolences to the fortissimo team and his family, I cannot even imagine what a big loss this is for cinema cause of his pure passion and devotion.
Lina Marrone
Your passion, dedication and most of all your humour was truly inspirational. My condoleances to your extended family around the world.
Pavel Tsarvoulanov, Svetlana Litvinova, Eugene Mirnyy
Shocking and very sad news... We all at Russian Report will miss you. Rest in peace, Wouter. Pavel, Svetlana, Eugene
nicolaine den breejen
Our Filmworld has lost a bright and sparkling Star. Lets make something beautiful to honour and respect the light-years that are now our inheritance.
Lekha Shankar,Bangkok
It's too sudden and shocking, a terrible loss for everyone in the film fraternity,especially in Bangkok,where he was such an inspiration to the indie film-makers.One ardently hopes his pioneering work will continue.May his soul rest in peace.
Michel Demopoulos
Wouter.. I am shocked to hear this terrible news..I knew him from his very beginning in the business in Rotterdam..It's sad because he was a wonderful person..Wouter we will miss you
Gisele Barreto
Onze oprechte deelneming bij het overlijden van Wouter Barendrecht. Van de collega's van Technicolor.
Jozko Rutar (Staragara Production)
My deep condolence to all his colleagues at Fortissimo Films, filmmakers he worked with and to his family.
Maria João Sigalho
I am deeply sorry. My sincere condolences to Wouter's family, friends and colleagues. He will be missed and always remembered.
Eva D.
a massive loss, a massive void.... so long Wouter, will never forget you...
Maria Grazia Vairo
How sad I was to read the news that Wouter has passed away. It's just shocking - he was so young. My heart goes out to Michael and Nicole along with everyone at Fortissimo who loved him. What a sad loss for our industry too. That smile of his will be missed.
Antonio Rodrigues
I was surprised and saddened by the news of the sudden death of Wouter Barendrecht. I had not seen him in some years, but I have marvellous recollections of this then young, handsome and enthusiastic man, whom I first met in Rotterdam and then again in New York and Rio. At least, his death was sudden, without illness, suffering or degradation. Antonio Rodrigues Cinemateca Portugesa/Portuguese Film Archive
Filippo D'Angelo
Dear Wouter, it was really a pleasure to meet and work with you. The "beautiful cinema" family will miss you.
Cyril Thurston - Xenix Filmdistribution
Goodbye Wouter, rest in peace, we will miss you.
Volkert Struycken & Errol Nayci
We are very saddened and grieved by the unexpected passing of Wouter. If there was ever a person who fit the nickname 'the flying Dutchman' it would be Wouter, as he travelled the world in search of cinematic gems. We have genuine and great admiration for what he has done and built, and will be sadly missed for what he was yet to achieve. We wish his family, Nelleke, Ellis, everybody at Fortissimo and his friends strength in this time of grief.
Dorothy Ding
My deepest condolence to all @ Fortissimo... Wouter will be dearly missed...
Jorn Rossing Jensen
See you up there
alexis kwong
Dear Wouter - you are a huge loss to the Asian film industry.
Pimpaka Towira
Rest in peace. I pray for your soul.
<< Previous
9
|
10
|
11
|
12
|
13
|
14
|
15
|
16
|
17
|
18
|
19
|
20
|
21
|
22
|
23
|
24
|
25
|
26
|
27
|
28
|
29
Next Page
---