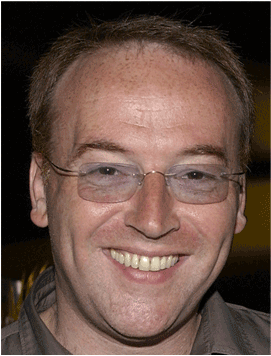 Wouter Barendrecht
Amsterdam, 5 november 1965 - Bangkok, 5 april 2009
Deeply saddened we confirm that Fortissimo's company founder and co-chairman Wouter Barendrecht suddenly died on Sunday April 5 in Bangkok, Thailand.
Wouter's passing has shocked his family, his friends and colleagues around the globe.
His passion for cinema, his vision, his energy and his witty humor will be extremely missed by all of us.

On this Memorial website you can share your thoughts and memories with us.

The Fortissimo Family
| | |
| --- | --- |
| Contactperson: | Chris Paton |
| | chris.paton@fortissimofilms.com |
Memorial services

On Wednesday May 13, during the Filmfestival in Cannes we will celebrate Wouter's life and achievements. For more information about the event, please contact info@fortissimo.nl. Please respect the nature of the event.


| | |
| --- | --- |
| Venue: | Plage des Palmes |
| Time: | 3-4 pm |
To honour Wouter's memory, a foundation has been established. The goal of the Wouter Barendrecht Film Foundation will be to support one of Wouter's key missions and goals during his career and that was to encourage the work of talented young filmmakers. This will be accomplished with award grants to be given out on a yearly basis at festivals that Wouter supported and/or worked at or with during his life.

While Wouter loved flowers, we would ask that if you want to honour him, a contribution to the Wouter Barendrecht Film Foundation would be more appreciated and long lasting.

With the support of Fintage, two depository accounts for the Foundation have been established today; the details of which are listed below:
Account holder:
Fintage CAM BV
Reference:
Wouter Barendrecht Film Foundation
Account number:
NL38 FTSB 0241 490677
Bank:
Fortis Bank Nederland N.V.
Blaak 555
3011 GB Rotterdam
The Netherlands
Bic Code:
FTSBNL2R
Account Name:
Fintage Collection Account Management B.V.
Reference:
Wouter Barendrecht Film Foundation
Account number:
368-0-066881-9
CA Bank:
Standard Chartered Bank
(Hong Kong) Limited (003)
4-4A Des Voeux Road Central, Hong Kong
Swift Code:
SCBLHKHHXXX
Gurinder Chadha
Wouter I cannot beleive i will never receive a charming, affectionate embrace from you again. You are irreplacable in the world of cinema. My condolences to your family, colleagues and all friends the world over. Your passion and enthusiasm will live on in the work you created for many life times.
Joe Lau
Wouter,your smiling face will always be in my mind, firendly & sincere attitudes told me the trust with our own wills. Goodbye, my dear friend.
Anna Stratton
We were fortunate that with our first feature almost 17 years ago we were introduced to the international world of independent cinema by Wouter and Fortissimo. We learned so much from his passion, adventure, commitment to world cinema, a great sense of humour and delight and then there was the embrace one could always count on wherever he would appear - the beacon of light that was Wouter. I realize looking back that with each festival or event, I always looked to see if he was there - somehow over the years it has continued to be a source of reassurance - an anchor in the ever changing and evolving world that is film. We will miss his presence, but his spirit will continue to inspire and guide us. You are much loved Wouter.
paul schrader
Wouter was a rare combintation: taste, talent, genuine decency and an eye for the new and necessary. Deepest condolences to his friends and family.
Martial Knaebel
Ciao Wouter! Tu ne nous aurais pas laissés pleurer car tu aimais trop la vie et la joie que tu répandais autour de toi. Il nous reste des souvenirs de moments intenses à chérir et à préserver pour que tu vives toujours dans nos coeurs profondément touchés. Ciao Wouter, car nous te reverrons dans chaque film que tu as aidé à naître et à faire connaître.
Butch Ibanez
Wouter is such a big loss to the industry. We will always remember him as a hardworker and a cheerful fellow. In behalf of Mr. Wilson Tieng and the staff of Solar Entertainment Corporation, our heartfelt condolences to the family of Wouter, including Fortissimo Films. Our prayers go out to you.
George LaVoo
Dear Wouter. I asked you once many years ago if you felt proud you had such a success winning a top prize at a festival with a film you had helped shepherd. You said, very earnestly, "I don't believe in pride." You were glad the movie was appreciated. But you weren't in it for personal gain. You said you just loved what you were doing. A very rare person indeed. I will always cherish the memories.
Nathanaël Karmitz et Marin Karmitz
All the people who have met Wouter Barendrecht knew how much he was a talented and a passionate man. At MK2 we've had this chance and are deeply affected by his sudden death. Condolences to his family.
William To
I'm so heart-broken, Wouter. I'll miss receiving your sms when I am travelling abroad. You're an angel to so many of us. I hope I'll be lucky enough to be your friend again in my next life. Goodbye, my dear friend!
Deniz Ziya Temeltas
I am terribly saddened with Wouter's passing. I have barely said goodbye to him in Hong Kong Fostissimo get together. So sadden, he will be missed so much. Hard to pu words back to back to a man who given so much to his friends.
Alberto Barbera
I met Wouter in Hong Kong 20 years ago. I was immediately captured by his simpthay, skill and love for cinema. I can't believe his's gone in such a brutal and unexpected way. I'll miss you, Wouter...
Erzsi Ladage
Lieve Wouter, Ik heb je leren kennen toen we negen waren. We waren uitverkoren door de gemeente Apeldoorn om deel te nemen aan een Internationaal Kinderdorp. Toen was je al een wereldburger. Ik ken je als bijzonder intelligent, ondernemend en betrokken. Op het gym, toen we zomaar bij elkaar in de klas kwamen stonden we in debatten bij Sanders en met Heyboer vaak aan dezelfde kant. We liepen mee in de grote Ban-de-bom-demonstraties, je organiseerde een enorme manifestatie in Orpheus voor de Dwaze Moeders van Argentinië, was altijd van de partij bij allerlei schoolcabaretten, kwam zomaar aanzetten met Frank Govers Japonnen van Liesbeth List, kortom: je dacht altijd in het groot. In de loop van onze studententijd zijn we elkaar een beetje uit het oog verloren, maar ik ben razend blij dat er toch een soort 'overlap'-tijd is geweest, zodat er genoeg mensen zijn die je ook van dichtbij kennen... Ik had je zo graag nog eens gesproken. Mijn gedachten blijven bij je. Kiss, Erzsi Ladage
Grace Winter
When I still was a distributor, our best films came from Fortissimo, you had discovered them, chosen them and could talk so nicely about them. In Berlin, when the market day was over, there were drinks and laughters at the stand, listening to California Dream. You were a loyal, humorous and kind person. I cannot believe you are no more with us.
Grace Winter
Toen ik nog in distributie was kwamen mijn mooiste films van jullie, jij had ze gekozen en kon er zo mooi over vertellen. In Berlijn, eens de dag voorbij was op de markt, werd er aan de stand veel gelachen en gedronken, en we luisterden naar California dream. Je loyauteit, je gulheid, en zin voor humor vergeet ik nooit. Ik kan niet geloven dat je niet meer onder ons bent.
Albert Lee
I remember first meeting Wouter when we brought Jackie Chan and his entourage to Rotterdam in 1996. One of the finest gentlemen I have ever come across in this often cynical business, you shall forever be missed. We are indebted to you for bringing independent filmmakers, especially those from Asia, onto the world stage with such passion and enthusiasm. You were a pioneer. It has only just started to really sink in that we will not have you around. That's so very sad. My condolences to your family, friends, and everybody at Fortissimo. Farewell, my friend.
Susan Ho
No matter how busy you were, Wouter, you always found time to talk, to open and share your life with others. You are so missed, and you will always have a place in our home. "The boss" Luke and Clare will read about Jip and Janneke from Uncle Wouter, and at every thanksgiving we will toast and remember the kind gentleman who always had the strangest, sarcastic and funniest stories and the most intelligent insights into our world. Wouter, it has only been 4 years since we met, and you have reminded us how fragile life is. Rest now in peace. To Michael, thank you for your friendship. You and Fortissimo are in our thoughts.
Laure Caillol
I feel respect and admiration for Wouter Barendrecht. When I hear the echo of all the independent cinema's world, shaken by the announcement, it is full of emotions, drawn by the impact of his personality and the inheritance he gives to us. My thoughts for Nicole and everyone at Fortissimo and his family and friends.
Fred Tsui
Devastation is an understatement when it comes to describing my sense of loss for the sudden departure of my best friend and soul mate. We shared the same zest for life, the same perverse sense of cynical humor, the same addiction to quality cinema, the same intolerance for bigotry and stupidity, and of course, the same weakness for sauvignon blanc, champagne, toro and uni. Life will certainly go on, but it will never, ever be the same again.
Kai Wong
Will forever miss you Wouter. Till we meet again.
Mel Chionglo
To our dear Wouter, thank you for the time shared, the fun, intelligence, wit and insights we will treasure forever. Thank you for all the generous help and the push to make it. We will not forget. To your family, our hands reach out in deepest sympathy and prayerful condolence. With much love from your friends in Manila.
<< Previous
1
|
2
|
3
|
4
|
5
|
6
|
7
|
8
|
9
|
10
|
11
|
12
|
13
|
14
|
15
|
16
|
17
|
18
|
19
|
20
|
21
Next Page
---