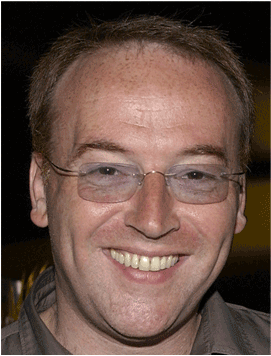 Wouter Barendrecht
Amsterdam, 5 november 1965 - Bangkok, 5 april 2009
Deeply saddened we confirm that Fortissimo's company founder and co-chairman Wouter Barendrecht suddenly died on Sunday April 5 in Bangkok, Thailand.
Wouter's passing has shocked his family, his friends and colleagues around the globe.
His passion for cinema, his vision, his energy and his witty humor will be extremely missed by all of us.

On this Memorial website you can share your thoughts and memories with us.

The Fortissimo Family
| | |
| --- | --- |
| Contactperson: | Chris Paton |
| | chris.paton@fortissimofilms.com |
Memorial services

On Wednesday May 13, during the Filmfestival in Cannes we will celebrate Wouter's life and achievements. For more information about the event, please contact info@fortissimo.nl. Please respect the nature of the event.


| | |
| --- | --- |
| Venue: | Plage des Palmes |
| Time: | 3-4 pm |
To honour Wouter's memory, a foundation has been established. The goal of the Wouter Barendrecht Film Foundation will be to support one of Wouter's key missions and goals during his career and that was to encourage the work of talented young filmmakers. This will be accomplished with award grants to be given out on a yearly basis at festivals that Wouter supported and/or worked at or with during his life.

While Wouter loved flowers, we would ask that if you want to honour him, a contribution to the Wouter Barendrecht Film Foundation would be more appreciated and long lasting.

With the support of Fintage, two depository accounts for the Foundation have been established today; the details of which are listed below:
Account holder:
Fintage CAM BV
Reference:
Wouter Barendrecht Film Foundation
Account number:
NL38 FTSB 0241 490677
Bank:
Fortis Bank Nederland N.V.
Blaak 555
3011 GB Rotterdam
The Netherlands
Bic Code:
FTSBNL2R
Account Name:
Fintage Collection Account Management B.V.
Reference:
Wouter Barendrecht Film Foundation
Account number:
368-0-066881-9
CA Bank:
Standard Chartered Bank
(Hong Kong) Limited (003)
4-4A Des Voeux Road Central, Hong Kong
Swift Code:
SCBLHKHHXXX
Barbara Goldman
Dear all at Fortissimo, The terrible news of Wouter's sudden death has very much shocked me. Herewith I just want to let you know I think of you all and wish you strength for the coming period. Best wishes, Barbara Goldman (ex-IFFR)
Eugenia Mitropoulou
oh dear Wouter...I am so deeply shocked and sad. I still cannot believe you are not here anymore...You were so young and had so much more to give. You were the best guy in the film industry. We shall miss your smile, your kindness, your energy, your brightness, your willingness, your professionalism, your breeze... The film family is definitely poorer. We shall remember you. Rest in peace! Our deepest condolesence to Michael, Nelleke, all the Fortissimo team and his family.
JUAN E GARCIA (MEXICO)
VERY SORRY TO HAVE LOST A GREAT PERSON WHOM I HAD THE HONOUR TO HAVE MET A COUPLE OF TIMES THAT WERE ENOUGH TO APPRECIATE IT WHAT A FORMIDABLE HUMAN BEING HE WAS DEFINETIVELY A GREAT LOS FOR THE FILM INDUSTRY WORLDWIDE AND MY SINCERE CONDOLENCES TO HIS FAMILY
Rain Li
I still have the Blackberry messages that we have exchanged a day before I heard the news of your death. You said you were fine and just having a terrible cold. I was shocked and sadden by the news. I thought it was just a bad joke. Im honoured to have seen you and a giggle with you just before you left this world. Your spirit and smile will always be present for me. Your passionand contribution for Asian independent cinema has impired me to go back to China, my own country that I had escaped from for many years, to contribute, and to re-explore my own culture identity. Miss you, my dear. Chris specially miss you more as he has lost his closest friend in life.
Alison Thompson
Simply can't believe you're gone. We have been robbed of one of independent cinema's shining lights. Your passion for life and film was truly inspirational and will live on through all those of us who were privileged to know and love you.
Doreen Boonekamp
We are deeply shocked and saddened by Wouter's sudden death. Wouter, you were such an inspiring and enthusiastic man. The heart of the whole Nederlands Film Festival team goes out to all of you; Wouter's family, the Fortissimo team and his friends all over the world.
Doreen
We are deeply shocked and saddened by Wouter's sudden death. Wouter, you were such an inspiring and enthusiastic man. The heart of the whole Nederlands Film Festival team goes out to all of you; Wouter's family, the Fortissimo team and all his friends all over the world.
Regine Schmid
It must be 20 years ago that I met Wouter in Berlin when he worked for the Forum and I was just starting in distribution. His energy and irreverent humour combined with so much warmth and generosity were immediately striking. It was a joy to see him build Fortissimo as a home for the films he loved and cared so passionately about, and to witness how much change one company can bring about. I can't believe he's gone, and we will never hear his laugh again. My condolences to his colleagues at Fortissimo, his family and his many friends.
Clara Law
Wouter, I went to bed last night with your face and that smile, woke up this morning with that same face and smile. Couldn't get them out of my head. Yesterday when I heard the news I couldn't begin to comprehend what that meant. We only bumped into each other a week ago didn't we, you getting into a party and me and Eddie getting out from a party. Life is a party, and after life? I can only hope it is another party, and that you'll continue to enjoy it like never before. But I'll miss your face, and your smile.
Roman Paul
Wouter, you'll stay a role model in this industry for me. You combined cinematic vision with kindness which is very rare as we all know. I bought one film from you "Beautiful People" - a telling title since you will always be one of them. Be proud, Wouter, of what you have achieved on how you lived. Wherever you are - chinchin! Roman
Myriam ARAB
I met Wouter I was 22 years old a baby in the industry and he kindly invited me in Rotterdam looking at me ...and giving me the opportunity to start understand this business. He was always nice and smily. A deep thought to all of you .
Oded Horowitz and everyone in Orlando Films
Wouter is one of the main pillars who holds this industry, for me. He introduced me to so many people almost 20 years ago when I was just getting into the business and during all these years, in ups and downs, remained loyal, assuring, extremly wise and friendly with no boundaries. That's a pillar. And pillars never die because they're rooted inside us now. We'll always have Wouter!
chantal krakowski
What a great honour it was always meeting you at Fortissimo and any place, everytime I was impressed, you always very professional and with a lovely real smile. Feeling relaxed and enjoying life was written on your face. Everyone at Fortissimo, close friends and family bon courage and Wouter bon voyage to you.
Ioannis Drepas - Seven Films
My deepest condolences to his family and friends.He will always be remembered for his energy, enthousiasm and most of all his great contribution. It was a privilege to have met and worked with him.
Riaya Aboul Ela
There are some you admire and some you respect--but rarely both.
Soli Beraha
I had a terrible shock on Monday morning, April 6 opening Screen daily. It took me several moments to realize what I was reading... Wouter was a dear friend and we have shared so many good stories, laughs, dinners and lunches, not to mention the beautiful films that we discovered and released thanks to him. I will deeply miss his smiling face, his deep culture and human kindness. My thoughts are with all of you at Fortissimo who have worked with him for so many years and obviously to his family. This is a terrible, terrible loss.
Bruce D. Lee
Wouter, Can you wake up and smile again ? We had so much good times for the last 20 yrs and I still remember when you told me about your little exciting adventure to Pyong Yang Film Festival of North Korea. Wouter.. you're still too young to die so wake up and let yourself front like nothing happened..
Shinho Lee
We'll all miss you greatly, Wouter... Rest in peace...
Vanessa Jerrom
Very sad to hear the news. Wouter was a lovely person.
Wim De Witte
On behalf of the Ghent International Film Festival (Belgium), we wish to share with Wouter's family and all Fotissimo's friends our deepest and most sincere condolences.
<< Previous
11
|
12
|
13
|
14
|
15
|
16
|
17
|
18
|
19
|
20
|
21
|
22
|
23
|
24
|
25
|
26
|
27
|
28
|
29
|
30
|
31
Next Page
---