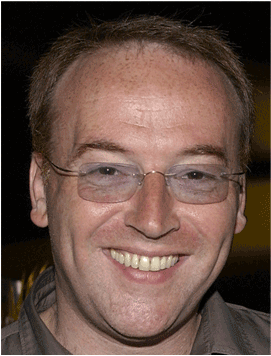 Wouter Barendrecht
Amsterdam, 5 november 1965 - Bangkok, 5 april 2009
Deeply saddened we confirm that Fortissimo's company founder and co-chairman Wouter Barendrecht suddenly died on Sunday April 5 in Bangkok, Thailand.
Wouter's passing has shocked his family, his friends and colleagues around the globe.
His passion for cinema, his vision, his energy and his witty humor will be extremely missed by all of us.

On this Memorial website you can share your thoughts and memories with us.

The Fortissimo Family
| | |
| --- | --- |
| Contactperson: | Chris Paton |
| | chris.paton@fortissimofilms.com |
Memorial services

On Wednesday May 13, during the Filmfestival in Cannes we will celebrate Wouter's life and achievements. For more information about the event, please contact info@fortissimo.nl. Please respect the nature of the event.


| | |
| --- | --- |
| Venue: | Plage des Palmes |
| Time: | 3-4 pm |
To honour Wouter's memory, a foundation has been established. The goal of the Wouter Barendrecht Film Foundation will be to support one of Wouter's key missions and goals during his career and that was to encourage the work of talented young filmmakers. This will be accomplished with award grants to be given out on a yearly basis at festivals that Wouter supported and/or worked at or with during his life.

While Wouter loved flowers, we would ask that if you want to honour him, a contribution to the Wouter Barendrecht Film Foundation would be more appreciated and long lasting.

With the support of Fintage, two depository accounts for the Foundation have been established today; the details of which are listed below:
Account holder:
Fintage CAM BV
Reference:
Wouter Barendrecht Film Foundation
Account number:
NL38 FTSB 0241 490677
Bank:
Fortis Bank Nederland N.V.
Blaak 555
3011 GB Rotterdam
The Netherlands
Bic Code:
FTSBNL2R
Account Name:
Fintage Collection Account Management B.V.
Reference:
Wouter Barendrecht Film Foundation
Account number:
368-0-066881-9
CA Bank:
Standard Chartered Bank
(Hong Kong) Limited (003)
4-4A Des Voeux Road Central, Hong Kong
Swift Code:
SCBLHKHHXXX
Kent Jones
I met Wouter for the first time in the mid-90s in Rotterdam. Over the years, he appeared to grow younger. He was never less than ebullient at all times, whether he was in a bar at 3am or a morning meeting at 9. He was one of the warmest presences in the film world. I'll always remember him fondly.
Saw Teong Hin
Dear Wouter, Thank you for your kindness and generosity and above all your friendship. You will be missed.
Heddy Honigmann
It is very tragic that Wouter will not be anymore among us. The few times I've met him it was impressive how strong his lust for life was and his love for the good cinema. I'm sure that Fortissimo colleagues will continue his important work, supporting the good independant cinema. One by one, in my mind, I shake the hands of all his family members, friends and colleagues, whishing them all the best in these period of grieve. It's not fair!!! Heddy Honigmann ps excuses for my bad English
Alex van Warmerdam
Wouter is weg. Volstrekt absurd. Die goeie, loyale Wouter die zonder poeha geld in mijn films stopte en ze ook nog aan de man bracht. Die altijd in een goed humeur was, die nog Indisch bij ons zou komen eten.
Ton Okkerse
dear Wouter, sincere appreciation for your great work, wish i had learned to know you better whilst the time was there. Namasté
Victor Syrmis
We are very saddened by this terrible news and send our condolences to Wouter's family friends and to his many many colleagues. We miss his warm smile. Arclight Films
Claude Chamberlan
Wouter was a key programmer for all film festivals in the world. His smile, his contribution, lives on... Bonjour Wouter et bien à toi, tes amis, ta famille. Claude Chamberlan Founder/Director Festival du Nouveau Cinéma - Montréal
Dirk de Lille
Wouter. Just too soon . We still needed a lot to do together. Talk business Talk nonsens Talk ... about old films and new films and gossip... I will miss you Dirk de Lille/The Entertainment Factory
Joe Lawlor and Christine Molloy
We're saddened to hear that Wouter has passed away. Our thoughts are with his family and friends.
Timo T. Lahtinen
Wouter's untimely and far too early passing away has shocked the film world and not least me personally. My thoughts go to his family and closest friends, but the whole independent film community suffers a great loss. Rest in peace, Wouter, we miss you.
Barbara Scharres
What a sad loss to the film world. My thoughts are with Wouter's family and closest associates. Rest in peace, Wouter.
Barbara Scharres
What a loss! My thoughts are with Wouter's family and closest associates. Rest in peace, Wouter.
Louisa Dent
I was shocked and saddened to hear the tragic news about Wouter yesterday, a life taken away much much too early. He will be missed greatly; his cheerfulness, his kindness and his passion for film will always be remembered. My deepest sympathy to his family, to Nicole, Michael and everyone at Fortissimo Films.
Natalie Brenner, Ealing Studios
Deeply saddened by the news of Wouter's death which has shaken the community to its core. The loss to his family, friends and close colleagues is unimaginable. Our prayers and thoughts go to them all. While he will be desperately missed and his loss so acutely felt, it is fitting that a lifetime of inspiration and encouragement to filmmakers will continue through the legacy of a foundation set up in his memory. He would, I'm sure, be so pleased. RIP Wouter.
Willemien van Aalst
Deeply shocked by your sudden death Wouter, I think with great respect to your amazing contribution to the International Film Industry. My condolences goes to your family, your friends and the Fortissimo team. Rest in peace.
Azize Tan
I am in great shock. He was in Istanbul during the festival last year and we had a great time. I will always remember his smiling face and his friendship. Azize Tan Director Istanbul Film Festival
Ewa Puszczyńska & Opus Film Team
I cannot say I knew Wouter , I met him only once, but still feel deeply sorry. My sincere condolences to Fortissimo, Wouter's Family and Friends
Francien Jonge Poerink
It was a big shock to hear about Wouter's sudden passing away. My heart and sympathy goes out to his family, friends and colleagues at Fortissimo Films.
Angela Savoldi
I still cannot believe it, your smile will be in my eyes forever. Rest in peace.
Charles-Marie Anthonioz
I am deeply sorry. My thoughts go to his family and all his colleagues and friends. RIP Wouter. Charles-Marie
<< Previous
8
|
9
|
10
|
11
|
12
|
13
|
14
|
15
|
16
|
17
|
18
|
19
|
20
|
21
|
22
|
23
|
24
|
25
|
26
|
27
|
28
Next Page
---