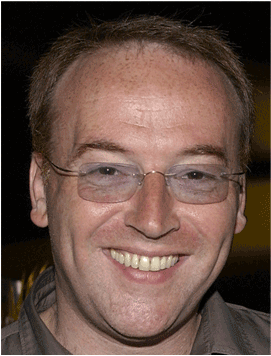 Wouter Barendrecht
Amsterdam, 5 november 1965 - Bangkok, 5 april 2009
Deeply saddened we confirm that Fortissimo's company founder and co-chairman Wouter Barendrecht suddenly died on Sunday April 5 in Bangkok, Thailand.
Wouter's passing has shocked his family, his friends and colleagues around the globe.
His passion for cinema, his vision, his energy and his witty humor will be extremely missed by all of us.

On this Memorial website you can share your thoughts and memories with us.

The Fortissimo Family
| | |
| --- | --- |
| Contactperson: | Chris Paton |
| | chris.paton@fortissimofilms.com |
Memorial services

On Wednesday May 13, during the Filmfestival in Cannes we will celebrate Wouter's life and achievements. For more information about the event, please contact info@fortissimo.nl. Please respect the nature of the event.


| | |
| --- | --- |
| Venue: | Plage des Palmes |
| Time: | 3-4 pm |
To honour Wouter's memory, a foundation has been established. The goal of the Wouter Barendrecht Film Foundation will be to support one of Wouter's key missions and goals during his career and that was to encourage the work of talented young filmmakers. This will be accomplished with award grants to be given out on a yearly basis at festivals that Wouter supported and/or worked at or with during his life.

While Wouter loved flowers, we would ask that if you want to honour him, a contribution to the Wouter Barendrecht Film Foundation would be more appreciated and long lasting.

With the support of Fintage, two depository accounts for the Foundation have been established today; the details of which are listed below:
Account holder:
Fintage CAM BV
Reference:
Wouter Barendrecht Film Foundation
Account number:
NL38 FTSB 0241 490677
Bank:
Fortis Bank Nederland N.V.
Blaak 555
3011 GB Rotterdam
The Netherlands
Bic Code:
FTSBNL2R
Account Name:
Fintage Collection Account Management B.V.
Reference:
Wouter Barendrecht Film Foundation
Account number:
368-0-066881-9
CA Bank:
Standard Chartered Bank
(Hong Kong) Limited (003)
4-4A Des Voeux Road Central, Hong Kong
Swift Code:
SCBLHKHHXXX
Helene Cardis
Wouter was a fantastic person. It is so sad, we will miss him a lot. I am with you all. my deep heartfelt condolence for his family, friends and collegues.
Sandie Don, Hopscotch Films
Wouter - Always so welcoming and kind. Always three kisses. A rare passion reflected in film and truly inspirational. Too soon. Too sad. Deepest sympathy to his Fortissimo family.
Venice Film Festival - Programming Office
Everybody has a name and a last name, in the film industry. Not Wouter. To all of us - close friends who shared with him a whole vision or simple acquaintances who shared just a smile, a handshake, a hug - Wouter was Wouter, nothing else. We will all miss him.
Antunes Joao, Lusomundo
When the sad news arrived, we could not believe. To Wouter's family and friends our deepest and most sincere condolences. To our friends at Fortissimo a special word of incitement to continue the work that Michael and Wouter started.
Lisa Cruse
My heartfelt condolences to Wouter's family and friends. It doesn't seem real that Wouter is no longer amongst us here but his friendships and filmwork will live on. Such a driving force. He will be sadly missed.
Daniel Guckau
Wouter - I did my first deal in the film business with you; "Away with words" – and now I don't have words for this… You were a truly unique person and one of my great examples how to combine passion and business with kindness. I am sure we will recognize your wonderful spirit when it is reborn.
Wilma en Ko van Geemert
We hebben buitengewone herinneringen aan Wouter, niet in de laatste plaats herinneringen aan hem in HongKong. Zonder Wouter hoeven we daar niet meer te zijn. Vreselijk dat hij er niet meer is.
Winnie Chung
My dearest Wouter, when La Tsang's SMS came to me in my hotel room in Barcelona, my heart fell ten thousand fathoms. Fate could not be so cruel. Now as the realization truly begins to sink in that we will never see you again, it is telling that the only images in my mind of you are of a smiling, happy Wouter. You made our lives richer, you made this world warmer and you showed us all how to love with a generous heart. Thank you for the many kindnesses you have shown me through the years and the unstinting loyalty and friendship you offered. Words cannot describe how much emptier this world seems without you. Rest in peace, my friend.
Mon
IMPORTANT!!!- To ALL Of You, PLS...light a candle or 2 and dedicate them to Wouter so that he can see the light and find his path to eternal peace without being loss or scared.... pls....
Mon
Wouter was one of the few untainted people i know in HK whose always so straight forward, fun, loving and super supportive to all those he cares about despite his busy schedule he'll always make time to check up on his mates just to c that they r ok and well....for that, i thank you ah sui, i'm gonna miss all those little messages but you have also taught me...no more excuses...and dont wait till its too late...we'll hotpot when we meet again, I promoise!!.... luv u and miss you dearly my friend!!!
Lynn Fourie
Words are so inadequate - Wouter, RIP - our thoughts are with your friends, colleagues and family during this incredible difficult time.
Olivier Père (Quinzaine des Réalisateurs)
It was a pleasure to work with Wouter. I am very moved by his sudden death, and I will miss him a lot. All my sympathy to his family, his friends, and the Fortissimo team.
Michelle Krumm
No matter where in the world you were, Wouter's smile and glitter in his eyes were there to meet you. He made festivals feel like home with his presence yet he could always create a new adventure for you no matter where in the world you were. He and his zest for life will be missed at every festival, every market, hallway, elevator, theater, meeting, dinner and bar. He touched everyone he met. There are not enough words to fully capture Wouter nor the impact he made on people and the community and how much he will be missed.
Rainbow Fong
Wouter, While you sudden departure is a great lost to the HK film industry, it is even a bigger lost friends. We'll all miss you. Don't worry through, I am sure most of us will remember whenever a see a really good movie of your type or hear a hearty laugh from someone. Farewell now.
Irene Leung
Wouter, I would rather write you an ordinary email or business correspondence than this. Deeply saddened you left but you live always in my heart: your energy, humour, passion and all the memories....
Marcus Hu
Wouter, I've travelled the globe with you, I've shared many wacky and wild adventures with you. People have called me the Asian Wouter and you the Dutch Marcus. You always treated my mom as your own, you will always be a part of my life forever. You are leaving behind your film family, your Fortissimo family and your dear mother as well. Your hard work will live on. I miss you so much already.
Roddy Shaw
Will never forget your smile, humor and kindness to people and the world around you.
Rehmat Karim Fazli
Dear Michael Werner, I am shocked and deeply grieved on learning the sudden demise of your partner and best friend Mr. Wouter Barendrecht. My deep hearfelt condolences to you and his near and dear ones May God Almighty gives you and his family members courage and fortitude to bear this irreparable loss and may God rest his soul in peace. Amen. Sharing your grief with a heavy heart. Regards Rehmati
Rehmat Karim Fazli
Dear Michael Werner, I am shocked and deeply grieved on learning the sudden demise of your partner and best friend Mr. Wouter Barendrecht. My deep hearfelt condolences to you and his near and dear ones May God Almighty gives you and his family members courage and fortitude to bear this irreparable loss and may God rest his soul in peace. Amen. Sharing your grief with a heavy heart. Regards Rehmati
Rehmat Karim Fazli
Dear Michael Werner, I am shocked and deeply grieved on learning the sudden demise of your partner and friend Mr. Wouter Barendrecht. My deep hearfelt condolences to you and his near and dear ones May God Almighty gives you and family members courage and fortitude to bear this irreparable loss and may God rest his soul in peace. Sharing your grief with a heavy heart. Regards Rehmati
<< Previous
4
|
5
|
6
|
7
|
8
|
9
|
10
|
11
|
12
|
13
|
14
|
15
|
16
|
17
|
18
|
19
|
20
|
21
|
22
|
23
|
24
Next Page
---