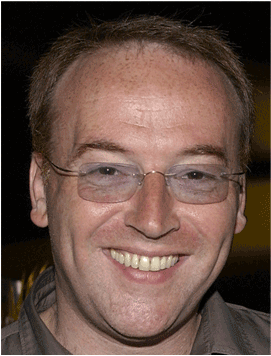 Wouter Barendrecht
Amsterdam, 5 november 1965 - Bangkok, 5 april 2009
Deeply saddened we confirm that Fortissimo's company founder and co-chairman Wouter Barendrecht suddenly died on Sunday April 5 in Bangkok, Thailand.
Wouter's passing has shocked his family, his friends and colleagues around the globe.
His passion for cinema, his vision, his energy and his witty humor will be extremely missed by all of us.

On this Memorial website you can share your thoughts and memories with us.

The Fortissimo Family
| | |
| --- | --- |
| Contactperson: | Chris Paton |
| | chris.paton@fortissimofilms.com |
Memorial services

On Wednesday May 13, during the Filmfestival in Cannes we will celebrate Wouter's life and achievements. For more information about the event, please contact info@fortissimo.nl. Please respect the nature of the event.


| | |
| --- | --- |
| Venue: | Plage des Palmes |
| Time: | 3-4 pm |
To honour Wouter's memory, a foundation has been established. The goal of the Wouter Barendrecht Film Foundation will be to support one of Wouter's key missions and goals during his career and that was to encourage the work of talented young filmmakers. This will be accomplished with award grants to be given out on a yearly basis at festivals that Wouter supported and/or worked at or with during his life.

While Wouter loved flowers, we would ask that if you want to honour him, a contribution to the Wouter Barendrecht Film Foundation would be more appreciated and long lasting.

With the support of Fintage, two depository accounts for the Foundation have been established today; the details of which are listed below:
Account holder:
Fintage CAM BV
Reference:
Wouter Barendrecht Film Foundation
Account number:
NL38 FTSB 0241 490677
Bank:
Fortis Bank Nederland N.V.
Blaak 555
3011 GB Rotterdam
The Netherlands
Bic Code:
FTSBNL2R
Account Name:
Fintage Collection Account Management B.V.
Reference:
Wouter Barendrecht Film Foundation
Account number:
368-0-066881-9
CA Bank:
Standard Chartered Bank
(Hong Kong) Limited (003)
4-4A Des Voeux Road Central, Hong Kong
Swift Code:
SCBLHKHHXXX
Dan Griffiths
What a tremendous loss, Wouter was one of the most welcoming and warm-hearted people that I have known. He will be so missed. Condolences and love to Michael, Winnie, Nicole and all of the Fortissimo family.
Dana Linssen
de Filmkrant team wishes to express it's condolences to Wouter's family, friends and everyone at Fortissimo - your wit and your taste were an inspiration
Bill Stephens
Only last week we saw each other. Life, and the business will miss you. Bill
Sherman Ong
Like a shooting star gone too soon. Thanks for your illumination.
Jon Marcus
I am so saddened by this loss. We are better people, and the world is a better place, for the passion and joy Wouter brought to us and our work. While holding the highest standards, he blurred the line between work and play, and made it all a pleasure. You will be missed, my friend.
Tom Gorai
I met Wouter in 1994 in Rotterdam. He was witty, inclusive, passionate and ...kind. The fact that he stayed that way for all these years says it all. And why he will be so deeply missed....
Maarten Almekinders
Wouter made a great impression on me when I worked with him at the Rotterdam Filmfestival in the early nineties. He could have a hilarious telephoneconversation with a filmmaker on the other side of the globe, preparing a letter to a producer in another language, and at the same time answering your question on another subject in dutch. Amazing. So much energy and so many lives at the same time. So sad for him, his family and all his friends they all stopped so soon.
Mary Davies
Sad and shocking, hard to believe. Dear Wouter, looking at your photo I can hear your voice and remember meeting you the first time I went to Rotterdam in the late 80s, so smart (in all senses) and friendly and welcoming. My thoughts are with your family and everyone at Fortissimo.
Armen Dishdishyan, Rouben Dishdishyan and whole team at Central Partnership
We at Central Partnership were shocked with sudden news. It was just like yesterday that I talked with Wouter in Berlin. He was always welcoming and had that special smile that makes people feel comfortable to talk with. We have done many businesses with you and it was always pleasure for us. You will me missed for everyone. Rest in peace. You will not be forgotten.
D'Arcy Conrique
I am still shocked and deeply saddened by this most tragic news. Having cut my teeth in Asia just as his career began to take off, I knew then that he and Michael would succeed and further open the world's eyes to the beauty of Asian cinema. I find comfort in the fact that while his eyes will remain closed in eternal rest ours remain open in eternal gratitude for the passion he brought to film and this industry. My heart and condolences go out to his family, Michael, Nicole and the entire Fortissimo family.
Pitaya
RIP, Wouter. You will be missed!
Piera Detassis
Wouter was a great lover of cinema, a passionate man and a positive person. This is a very great loss, we will miss him.
Kaylen
Dag popje.. ik mis je…. Dacht dat ik met 6 vluchten dit jaar naar Hong Kong nog heel veel gezellige dingen met je kon doen... het mocht niet zo zijn… Ik kom zo naar Nederland om je voor de laatste keer te zien, maar diep van binnen weet je dat ik altijd met een glimlach aan je zal denken. En al onze vrienden zullen nog eenmaal speciaal voor jou een groot feest (nog groter dan in Bangkok!) in Amsterdam organiseren, dan kun je pas echt zien hoe je allemaal verschillende mensen bij elkaar hebt gebracht. Dank je dat ik in jouw leven mocht zijn.
Jorge Sanchez Sosa
Dear Wouter...yes, we are gonna miss you but let me tell you that you are deep in our heart. Your smile and kindness will be with us. Adios guapo...se you there.
Giovanna Fulvi
I cried and cried alone and over the phone first with Barbara, then with Noah and Fred and Veechee, with Federico and Andrea, then I numbed myself into sleep reading a bad script – one of a film you would have never produced dear Wouter. At 3.30 am I was suddenly woken up by a weird noise, as if somebody was trying to pry open the door, shaking the window panes, angrily rattling the door of the veranda. I stood up and felt nauseous, my head dizzy, and saw the lamp swinging at the rhythm of a powerful earthquake. My heart raced my mind into focus and suddenly the absurdity of the past afternoon, the pain of Barbara's phone call announcing your death came crashing onto my consciousness. I suddenly realized this world - my world - without you was no longer going to be the same. I feel privileged to have spent so much time with you last week in Hong Kong, and I feel so grateful you hugged me tight at the Thai restaurant before I left for Rome, you were so much fun. I miss you so much Wouter and I look forward to all the beauty in life and to all wonderful films you have and will continue to inspire. Safe journey Giovanna
Festival Internazionale del Film di Roma
Festival Internazionale del Film di Roma is truly hit by this tragic news, and close to Wouter's family in this difficult and sad moment. We also would like to express our deepest condolences to Fortissimo.
Norm Yip
I received word of Wouter's untimely death from my friend Schuyler, who forwarded an email with the news on Variety. The reality of it has not sunk in me, as his spirit is certainly alive and living in my memory and Soul. Perhaps this is exactly the way Wouter would have it. It was only 2 weeks ago that I was sitting beside him while watching Takita's 'Departures'; how ominous that this predicament stood waiting for Wouter. I am forever grateful for having known him, as he was always supportive of my work. His quirky sense of humor and witty sms messages will resound in my memory. I'm sure that wherever you are Wouter, that you are making as many friends as you had back here. 'Ah Shui' will be sorely missed by many of us here in Hong Kong.
Mark Adams
An inspirational and wonderful man and one of the greatest advocates for world cinema. The film industry will be a lesser place with Wouter's passing....he truly will be missed. Thoughts and condolences to his family and all at Fortissimo...
nicolas chartier
all my condolences to your family, michael, nicole and all fortissimo...
Gil Santos
WE AT ECOFILMES IN PORTUGAL ARE DEVASTATED BY WOUNTER'S SUDENT DEATH AND ARE GLAD TO HEAR THAT THE FORTISSIMO TEAM INTENDS TO CELEBRATE HIS LIFE AND WORK BY PROUDLY CARRYING ON HIS VISION ON THE COMPANY AND THE INDEPENDENT FILM WORLD. WE ARE TRULY WITH HIS FAMILY, FRIENDS AND THE ENTIRE FORTISSIMO'S TEAM. YOURS SINCERELY, Gil Santos + ECO's team in Portugal
<< Previous
7
|
8
|
9
|
10
|
11
|
12
|
13
|
14
|
15
|
16
|
17
|
18
|
19
|
20
|
21
|
22
|
23
|
24
|
25
|
26
|
27
Next Page
---