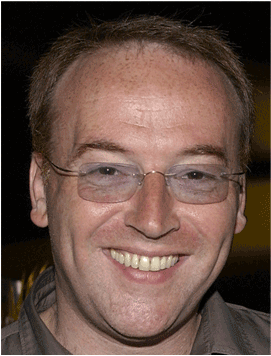 Wouter Barendrecht
Amsterdam, 5 november 1965 - Bangkok, 5 april 2009
Deeply saddened we confirm that Fortissimo's company founder and co-chairman Wouter Barendrecht suddenly died on Sunday April 5 in Bangkok, Thailand.
Wouter's passing has shocked his family, his friends and colleagues around the globe.
His passion for cinema, his vision, his energy and his witty humor will be extremely missed by all of us.

On this Memorial website you can share your thoughts and memories with us.

The Fortissimo Family
| | |
| --- | --- |
| Contactperson: | Chris Paton |
| | chris.paton@fortissimofilms.com |
Memorial services

On Wednesday May 13, during the Filmfestival in Cannes we will celebrate Wouter's life and achievements. For more information about the event, please contact info@fortissimo.nl. Please respect the nature of the event.


| | |
| --- | --- |
| Venue: | Plage des Palmes |
| Time: | 3-4 pm |
To honour Wouter's memory, a foundation has been established. The goal of the Wouter Barendrecht Film Foundation will be to support one of Wouter's key missions and goals during his career and that was to encourage the work of talented young filmmakers. This will be accomplished with award grants to be given out on a yearly basis at festivals that Wouter supported and/or worked at or with during his life.

While Wouter loved flowers, we would ask that if you want to honour him, a contribution to the Wouter Barendrecht Film Foundation would be more appreciated and long lasting.

With the support of Fintage, two depository accounts for the Foundation have been established today; the details of which are listed below:
Account holder:
Fintage CAM BV
Reference:
Wouter Barendrecht Film Foundation
Account number:
NL38 FTSB 0241 490677
Bank:
Fortis Bank Nederland N.V.
Blaak 555
3011 GB Rotterdam
The Netherlands
Bic Code:
FTSBNL2R
Account Name:
Fintage Collection Account Management B.V.
Reference:
Wouter Barendrecht Film Foundation
Account number:
368-0-066881-9
CA Bank:
Standard Chartered Bank
(Hong Kong) Limited (003)
4-4A Des Voeux Road Central, Hong Kong
Swift Code:
SCBLHKHHXXX
Marjolein de Leeuw
Al hadden we al lang geen contact meer, toch ben ik diep geraakt. Lieve Hans, Wim, Werner en Reinier, heel veel sterkte en kracht. Wouter en jullie zijn en blijven altijd in mijn hart.
Julian Alcantara
Wouter's big smile and big heart will be sorely missed by me and by many but in a life that touched so many he will never be forgotten.
Marnix van Wijk
My years at Fortissimo were my formative ones, and you Wouter taught me so many things! My heart goes out to your family and loved ones. See you on the other side.
Christophe Mercier
It was only three years ago that we celebrated Wouter's 40th birthday in Bangkok -- a city that he loved so much. I have fond memories of that great event which Wouter meticulously planned and so elegantly hosted. I also remember similar generosity on my first trip to Filmart when he shepherded Stephan, Pim and me through the city's restaurants, bars & clubs - all the time enthusing about his new film and filmmaker discoveries. Farewell Wouter.
Srdan Vuletic
Deepest condolences to his friends and family. You will be missed.
Peggy Chiao
Hate to say goodbye. But wait, you are just ahead of us, like all your move in business and productions. Looking forward to the days we will join you in the future. My condolence to all your family and co-workers.
Hong Kong International Film Festival Society
On April 5, 2009, the Hong Kong International Film Festival Society lost a great and very dear Friend. Wouter was always a great champion of Asian cinema and was dedicated to promoting the art and culture of film. It was his foresight, determination and dedication that led to the creation of the first Hong Kong - Asia Film Financing Forum (HAF) in 2000. Through the HAF, Wouter introduced some of the best Asian filmmakers, directors like Kiyoshi Kurosawa, Apichatpong Weerasethakul, Pen-Ek Ratanaruang, Zhang Yang and Brillante Mendoza, to the world. Wouter also served on the advisory board of the Asian Film Awards (AFA) from its inception and was instrumental in the establishment of the Awards. He was a cherished and respected presence, a force of nature which swept many press members, international film financiers and film buyers into the world of Asian cinema, and in doing so, changed the shape of the industry for the better. More than anything, Wouter was a truly unique human being, generous and kind, loving and gentle, devoted and dedicated. In work, he championed the unknown, the unusual and the original. In life, he brought people together and was the most splendid and biggest-hearted inspiration we ever had the honour of calling a friend. Wouter, you are missed, so very much, by all of us.
Peter Delpeut
It always felt as a great honour to have my films in the Fortissimo catalogue. When you go through them its al great cinema. And Wouter was the centre of it. I hope his collaborators in the company will find the strength to go on. He surely will make friends in the filmmakers heaven. T grieve for someone is a sign of love.
Anne Chaisson
To Wouter's loved ones and the entire Fortissimo Family, my deepest and most heartbroken condolences. Dylan and I cherish the memory of working with Wouter on PS and wonderful Venice and Toronto experience several years back. We will miss him dearly.
Sammie Lau
Dear Wouter, The evening before you went to bangkok, we had a great dinner and drinks. You dropped me off at home and we said "see you in early May". I still can't believe you have departed us. Thank you for your friendship, generosity, laughs, caring and sharing your passion for films. Your memories will always be in our hearts. I will miss you. My deepest condolences to Wouter's family, Michael, fortissimo's colleagues and his dear friends.
Sigurd van Lommel
It is incredibly sad that Wouter isn't here anymore. He was a very special guy.
Johanna Muth
Deeply saddened by this unbelievable loss. Your laughter, energy, joy, wit, spirit, sense of humour & smile will life on in everybody you have met and enchanted, dear Wouter. Thank you for everything.
jean luc defait
toutes mes condoleance sincerely jean luc Defait
Sandra den Hamer
Even a week after the horrible phonecall on that Sunday evening, I still cannot find the words to describe my feelings of shock and sadness. Almost 25 years ago Wouter - as a very young student - walked into my office and said 'that he thought it was fun to do something in the filmbusiness'. The rest is history. He was one of my dearest friends in life and work. Woutje, I miss you and will never forget. My thoughts are with his family and all my dear friends at Fortissimo
Moritz & Erika de Hadeln
Wouter left an incredible thread throughout the festivals we headed, immensely enriching the palette of our programs with the presence of new talents and cinematographic quality, so many the list would be too long to detail. But in a film world with so many sharks around, Wouter had another extraordinary talent, that of being genuinely honest, reliable, knowledgeable and friendly in his business relations. Whatever the situation, he was always a joyful person and an enthusiast film connoisseur. But beyond business relations, with him, we also lost a personal friend. Hours after we were shocked by the news of his passing, we wrote to Michael, his long time associate : "We know you will continue on the road he traced, this is indeed the best and only way to pay tribute to an exceptional person." In memory of Wouter, long life to Fortissimo!
Jonathan Dana
I was so deeply shocked and saddened to hear of the death of Wouter. We know not what lies in store for any of us as we start each day. My memory of Wouter will brighten every one of them that remain for me.
Eddy Tan
Wouter, It is sad to hear of your passing, may you rest in peace! I feel so bad since heard of your news and regret that we were both so busy that we did not do our meal together. Now it is too late and I feel so sad of it! Whenever you are, be happy and cheerful as always! Love Eddy
Eddy Tan
Wouter, It is sad to hear of your passing, may you rest in peace! I feel so bad since heard of your news and regret that we were both so busy that we did not do our meal together. Now it is too late and I feel so sad of it! Whenever you are, be happy and cheerful as always! Love Eddy
David Linde
Such a really good man with an amazingly wonderful spirit. Tremendously lucky to been able to share some time with him -- and being able to experience great film because of him. My condolences to his colleagues, family and friends.
Mark Burton
Wouter I will miss you. My condolences to Michael, your family, friends and your Fortissimo family.
<< Previous
1
|
2
|
3
|
4
|
5
|
6
|
7
|
8
|
9
|
10
|
11
|
12
|
13
|
14
|
15
|
16
|
17
|
18
|
19
|
20
|
21
Next Page
---