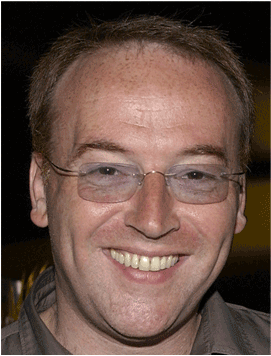 Wouter Barendrecht
Amsterdam, 5 november 1965 - Bangkok, 5 april 2009
Deeply saddened we confirm that Fortissimo's company founder and co-chairman Wouter Barendrecht suddenly died on Sunday April 5 in Bangkok, Thailand.
Wouter's passing has shocked his family, his friends and colleagues around the globe.
His passion for cinema, his vision, his energy and his witty humor will be extremely missed by all of us.

On this Memorial website you can share your thoughts and memories with us.

The Fortissimo Family
| | |
| --- | --- |
| Contactperson: | Chris Paton |
| | chris.paton@fortissimofilms.com |
Memorial services

On Wednesday May 13, during the Filmfestival in Cannes we will celebrate Wouter's life and achievements. For more information about the event, please contact info@fortissimo.nl. Please respect the nature of the event.


| | |
| --- | --- |
| Venue: | Plage des Palmes |
| Time: | 3-4 pm |
To honour Wouter's memory, a foundation has been established. The goal of the Wouter Barendrecht Film Foundation will be to support one of Wouter's key missions and goals during his career and that was to encourage the work of talented young filmmakers. This will be accomplished with award grants to be given out on a yearly basis at festivals that Wouter supported and/or worked at or with during his life.

While Wouter loved flowers, we would ask that if you want to honour him, a contribution to the Wouter Barendrecht Film Foundation would be more appreciated and long lasting.

With the support of Fintage, two depository accounts for the Foundation have been established today; the details of which are listed below:
Account holder:
Fintage CAM BV
Reference:
Wouter Barendrecht Film Foundation
Account number:
NL38 FTSB 0241 490677
Bank:
Fortis Bank Nederland N.V.
Blaak 555
3011 GB Rotterdam
The Netherlands
Bic Code:
FTSBNL2R
Account Name:
Fintage Collection Account Management B.V.
Reference:
Wouter Barendrecht Film Foundation
Account number:
368-0-066881-9
CA Bank:
Standard Chartered Bank
(Hong Kong) Limited (003)
4-4A Des Voeux Road Central, Hong Kong
Swift Code:
SCBLHKHHXXX
Choo Lip Sin
We will miss you, Wouter. Thanks for shining the light and leading us.
Sundip, Sunil and Ash Shah
Wouter you've made a huge impact on us on all. Your devotion, passion, inspiration and spirit will truly be missed. World Cinema mourns your loss. Our deepest condelences to your family, Michael W. and the Fortissimo Family, and friends. Our thoughts are with you all.
George Papadopoulos
My deepest sympathies to Fortissimo for this sudden and very sad loss. I first met Wouter at my first film market in 2000 and cannot believe he is taken from us at such a young age. Thank you Wouter for bringing into this world some of the most incredible films ever made. Your legacy in the film industry will be felt for many years to come and I am sure Fortissimo will continue your amazing and invaluable work. You will be terribly missed by everyone who has had the pleasure to work with you. Rest in peace.
Bee Thiam Tan (Asian Film Archive)
In my years of speaking to people about our film archive work, I never found a more enthusiastic and generous supporter. Thank you for being such a source of inspiration that sustains our faith in cinema and the people behind it who make them happen. My biggest hug to Wouter, the gentleman with such a great heart for cinema and his beloved friends. You'll be missed dearly.
Dede Nickerson
Dear Wouter, It seems as though the unthinkable has occurred and you have moved on. You are larger than life and will stay with all of us as long as we are here. To be among your friends is a great gift that stays with us. You will be sorely missed by all who know you and to know you is to Love you.
Pandelis Mitropoulos
What a shock! A great loss for the independent film industry. I will always remember you as, above all, a dear dear friend.
Stephen Lan
Dear Wouter, This is *so* you: Leaving abruptly when you still owe me dinner at Golden Thai. And dim sum at Lai Wah Heen. And Veuve at The Grand. The list goes on... I still remember the first day I met you through Noah. Stalker... Big hugs, Stephen
Tran Anh Hung
J'admirais ses choix et ce qu'il avait fait pour le cinéma asiatique. Quelle tristesse... Salut Wouter ! Tu étais un grand professionnel et un grand amoureux du cinéma.
Eri Kubo
Dear Wouter... I just cannot believe it. I will always remember your wonderful smile and the way you say "ERI-CHAN!". THANK YOU so much for everything. I will really really really miss you.
Max TESSIER
I was really shocked by the very surprising and sad news. I had known Wouter many years ago, when I was working for the Cannes selection, and always appreciated his professionalism, his taste for the best of cinema, and his human qualities. This is a sad and injust loss for the cinema world and everyone. My deepest condolences to Fortissimo and his family. Max Tessier (French film critic, and former member of the Cannes selection committee)
Howard Gertler
The films that Wouter made and championed inspired me to be a producer, and I was so lucky to have had the opportunity to work with him on "Shortbus." He and Fortissimo were the first company to get behind the movie, and he was still passionately pushing for the film this year as it had its breakthrough commercial release in South Korea. He leaves a legacy that I know we will all honor through our work and love of cinema. I'm just so, so saddened that he's left us so unimaginably soon.
Boram KIM
He was a freeman as the great producer cross the world.
Jan Kean
Dear Wouter, Thank you for the opportunity over the years to work with such a great guy on such rewarding films. It has a been a privilege to know you, and you will be missed. My thoughts are with your wonderful Fortissimo family, especially Michael, Winnie, Chris and Courtney.
Bridget Ikin
With his generous three kisses and his sparkling smile, Wouter was always a welcome friend, passionate, caring, so alive. We first met in LA many years ago; he was very very late for the meeting, because a good lunch had held him up. That seemed like a good excuse then (and still does!) Full of the spirit of cinema, ideas, originality, integrity - Wouter was a true champion of cinema in Australia, and knew how to make those of us lucky enough to work with him feel we were very welcome in the Fortissimo family. I send my most sincere condolences to all at Fortissimo - Michael, Nicole, Chris, Nelleke and all the rest of the staff.
Gloria Fan
Dear Wouter, I had heard so much about you from my friends and colleagues. I'm so blessed that for my first trip to Hong Kong we finally got to meet. As brief as our time was together, it will last a lifetime. Thank you. Gloria
Susanna Kim Bracke
How I wish this news wasn't true. Wouter was a such a warm and wonderful person, and a rare individual who made a vision of an international creative network into a lasting reality. He will be sorely missed.
Barbara Hershenhorn
To Wouter's family at home and at Fortissimo...I extend my deepest condolences. Wouter you were a one of a kind and will be missed by many people. Shalom, my friend.
Carl Spence
Wouter was someone I counted on as a close friend in the film industry. He provided unconditional friendship and advice from the first time I met him. It is hard to accept that he has been taken from us so unexpectedly. The only solace I can find is to remember his great smile and infectious enthusiasm and humor. I will cherish our nights out in Bangkok, Hongkong, Berlin, Seattle and Palm Springs amongst the many cities where his enviable wit and generosity provided fond memories too many. This whole thing makes me realize I need to live every moment to the fullest without regrets. That is what Wouter did. He has left behind more than just a company - Fortissimo is more like an extended family and my condolences go out to everyone that knew him well. He will be sorely missed.
Catherine Tait
For those of us who had the pleasure of knowing Wouter in the 90's when almost anything seemed possible in independent film - it has been an honor to see him make so many of those dreams come true. His legacy lives on at Fortissimo!
Kirsten Dalgaard
Dear Wouter, dearest friend. Two days have passed since the news of your untimely death hit me and my world changed. I am still in shock failing to understand. I miss you so much. Film festivals will never be the same without you, your conversations, your dinners, your care and - above all - your smile and humour. You had the capacity to make us all feel important and your best and most treasured friend. What an example to follow. And times in between festivals without your constant caring interest on a personal as well as a professional level will never be the same. Thank you for being my friend and sharing your passion for independent cinema with me. Thank you for giving me so many extraordinary experiences. I shall never forget you. My sympathy goes to your family and to your colleagues in the important and wonderful Fortissimo company you created together with Nelleke and Michael. I love you all. May you rest in peace, dear Wouter
<< Previous
5
|
6
|
7
|
8
|
9
|
10
|
11
|
12
|
13
|
14
|
15
|
16
|
17
|
18
|
19
|
20
|
21
|
22
|
23
|
24
|
25
Next Page
---