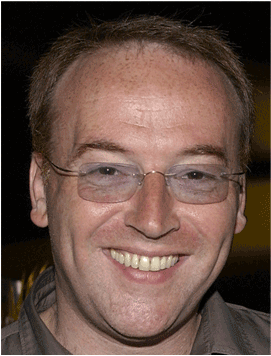 Wouter Barendrecht
Amsterdam, 5 november 1965 - Bangkok, 5 april 2009
Deeply saddened we confirm that Fortissimo's company founder and co-chairman Wouter Barendrecht suddenly died on Sunday April 5 in Bangkok, Thailand.
Wouter's passing has shocked his family, his friends and colleagues around the globe.
His passion for cinema, his vision, his energy and his witty humor will be extremely missed by all of us.

On this Memorial website you can share your thoughts and memories with us.

The Fortissimo Family
| | |
| --- | --- |
| Contactperson: | Chris Paton |
| | chris.paton@fortissimofilms.com |
Memorial services

On Wednesday May 13, during the Filmfestival in Cannes we will celebrate Wouter's life and achievements. For more information about the event, please contact info@fortissimo.nl. Please respect the nature of the event.


| | |
| --- | --- |
| Venue: | Plage des Palmes |
| Time: | 3-4 pm |
To honour Wouter's memory, a foundation has been established. The goal of the Wouter Barendrecht Film Foundation will be to support one of Wouter's key missions and goals during his career and that was to encourage the work of talented young filmmakers. This will be accomplished with award grants to be given out on a yearly basis at festivals that Wouter supported and/or worked at or with during his life.

While Wouter loved flowers, we would ask that if you want to honour him, a contribution to the Wouter Barendrecht Film Foundation would be more appreciated and long lasting.

With the support of Fintage, two depository accounts for the Foundation have been established today; the details of which are listed below:
Account holder:
Fintage CAM BV
Reference:
Wouter Barendrecht Film Foundation
Account number:
NL38 FTSB 0241 490677
Bank:
Fortis Bank Nederland N.V.
Blaak 555
3011 GB Rotterdam
The Netherlands
Bic Code:
FTSBNL2R
Account Name:
Fintage Collection Account Management B.V.
Reference:
Wouter Barendrecht Film Foundation
Account number:
368-0-066881-9
CA Bank:
Standard Chartered Bank
(Hong Kong) Limited (003)
4-4A Des Voeux Road Central, Hong Kong
Swift Code:
SCBLHKHHXXX
Ronald de Neef & Carey Fitzgerald
full of shock and sadness at losing one of independent cinema's true pioneers, and a great fellow Dutch man. Our hearts go out to Michael, Nicole and Wouter's family.
rosa bosch
oh wouter- did you really have to go so soon ... i have not been able to write anything her until now . Back from dinner with friends ( you like ) talking about you ... we will aways be taking about you. Remeber : there are people who : watch things happen , or who things happen to .. and the there are people who make things happen . Well , that was you, simply and greatly put . Our lives the poorer with your departure and a chapter of in the fleeting history of the cinema of our days , closed with you . eres tu ....
Gill Henderson
Dear Wouter; it was Berlin 1992 the heady heights of queer cinema, you sneaking in and out of assignations at the Steigenberger and teasing me mercilessly at the filmstand, mis-translating the German so i ordered baby chicks instead of eggs (and you master of how many languages?) You've done so much for cinema and you are a true original- I can't believe I wont see you again and be on the receiving end of some rude lesbian pun. Wouter, I hardly really knew you but it hurts all the same.
Colette Koo
Dear Wouter I still cannot really believe that you are not around, you will be sorely missed - whether its chili dinners in HK or pastas in Cannes. It has always amazed me that you seemed to have endless time and generosity for everyone and this will leave a hole in our lives. My only consolation is that you left peacefully and may you keep smiling. My deepest thoughts and love to Michael and the Fortissimo family as I cannot imagine their sadness and pain for the lost.
Ursula Beyer
The news of the sudden and by far too early death of dear Wouter shocked me and made me sad. I deeply feel with his family and friends! I got to know Wouter on the Carthago Filmfestival some 15 years ago and had the chance to meet talk, discuss, celebrate and laugh with Wouter on the different Filmfestivals in the following years. I will miss his humor and friendlyness, Ursula
JF
Wouter, we've known each other for 10 years now and while we'd never been close, we were always inextricably linked through someone very dear to us. I hope you find happiness, peace and everything that this world could not give you. My heart goes out to all who cared for Wouter.
Jane Smith (former CEO NSW Film & TV office)
Wouter was a larger than life figure in the Australian film industry. He had great creative judgement and was prepared to take risks. He invested in Australian stories and talent in a substantial way. He will be sorely missed.
Pamela Godwin-Austen
Wouter was a uniquely talented man who always made us feel that we were part of your team. His beautiful smile and spirit will be sorely missed but his legacy lives on in all of the people he has influenced and inspired over the years. I will keep you all in my thoughts and prayers during this most difficult time.
Sybilla ten Pas-Smits
Wouter, op het Stedelijk Gymnasium te Apeldoorn zat je maar liefst vier klassen hoger, toch wist ik meteen wie je was, toen ik donderdag van jouw heengaan hoorde. Dat zegt denk ik genoeg. Wat heb jij "een poepie laten ruiken"in deze wereld! Have fun on the other side!
Ida Martins
Dear Wouter, We just had a chat at the Filmart... It has been very difficult, yes. But now, on the top, it is very, very sad. Rest in peace!
Anna Francis
Such a tragic loss - such a wonderful man. My heartfelt condolances to the Fortissimo family. Anna
Michael, Kirsten, Johanna und Emilia Uhlich
Danke Wouter für die Zeit, die wir mit Dir verbringen durften. Wir werden Dich vermissen. Michael, Kirsten, Johanna und Emilia
Alexander Bohr, ZDF/ARTE
Your kindness, courage and passion will be painfully missed but not forgotten! Goodbye, dear Wouter. My condolences to his family, friends and all colleagues at Fortissimo Films.
WILLIAM YVES YEH
Thanks for everything, you are a great man, rest in peace...
Bavo Defurne
I am saddened to hear about Wouter's death. My sincere condolences to the Fortissimo Family and all who knew and loved Wouter.
Sherman De Jesus
My deepfelt feelings of condolence to Wouters family and the all the fine people at Fortissimo
Yves Verbraeken
With Fortissimo Wouter changed the life of many independent filmmakers. A terrible loss. Wishing all of you at Fortissimo and Wouter's family and friends strength. My thoughts are with you.
Yan Cui
I simply couldn't believe that you're gone, so soon, it seems your laughter and voice are still in the air... Wouter, your life long passion for filmmaking will continue to inspire us to make better films. Thank you for all your encouragement and support to me, us indie filmmakers. And you'll live in our heart forever...
Berenice Reynaud
Dear Wouter: The world will not be the same without you – and you left us so suddenly, without a word of warning, surprised, empty, angry even a bit, certainly very sad. One thing is sure: the world is not the same because you have graced it with your presence, your foresight, your acumen, your hard work. You were a man with a vision; first with your work at the Rotterdam Film Festival, then by creating Fortissimo, you significantly changed our cinematic landscape. You had the incredible foresight to move to Hong Kong – when it was the right time, and forever altered the course of film history, in the way Asian cinema is perceived in the West, presented in film festivals, distributed, programmed, appreciated and written about. Somehow, at this magnificent time in which the global perspective changed, shifted away from Eurocentrism and Americanocentrism to embrace, advocate and foster voices coming from all parts of Asia, but also the rest of the world, we grew up together. We were part of the same movement, we believed in the same things, we fought for the same filmmakers. It seems that I have known you forever – since Jerusalem (thank you, Lia van Leer), since my trip to Amsterdam in your office apartment (during which I came to visit our dear Johan van der Keuken), that you were there are every twist and turn of my career, that you'd appear in every city I visited. You rocked out boat, Wouter, you changed our world, you made it better, you'll be forever missed, but also forever remembered. In my first e-mail of condolences to Fortissimo, I said that you lived faster than most of us. Chris Berry said that you accomplished more things during your short life than most of us. You were like Fassbinder or Rimbaud – only more business-savvy, smarter, more considerate of others as well. You're gone, and I don't believe in eternal life, but I believe in the value of a job well done. You work, your oeuvre (yes, we spoke French together) will remain forever. You have not lived in vain, you will not disappear; you will remain in our hearts, and what you have created and constructed, with Michael, the Fortissimo people, the filmmakers you worked with, will endure for a very very long time.
Bob Hawk
Before the term Queer Cinema was coined, before LGBT was a recognized acronym, before Fortissimo existed—at a time when Mark Finch was still with BFI, Marcus Hu and Jon Gerrans were wet behind the ears and a whole gaggle of gay folks (of all sexes) were still finding themselves in a world that was commonly thought of as simply "gay films"—one of the main giggles in that gaggle was Wouter, a young, insouciant and deeply passionate redhead whose outrageously incisive observations were deliciously dishy. What made it all work was his innate sweetness and caring. What Paul Federbush referred to as his velvet voice was also lilting, like a caress—and no matter how high and frequent the laughter was with Wouter (along with his devilish eye) you never forgot how much he cared about what he was doing and his profound love of film—and new voices in film. The seeds of Fortissimo were always there within him, and because of Wouter's strong vision and leadership Fortissimo will continue to endure. As with the loss of Manfred Salzgeber, Mark Finch and Alf Boldt, Berlin will never be the same for me, with another hole that cannot be filled. Now Wouter is with the angels -- and they're singing "Happy Together"! Heartfelt condolences to all who knew and loved him.
1
|
2
|
3
|
4
|
5
|
6
|
7
|
8
|
9
|
10
|
11
|
12
|
13
|
14
|
15
|
16
|
17
|
18
|
19
|
20
|
21
Next Page
---