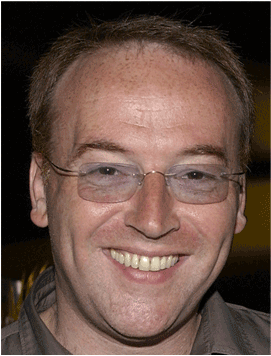 Wouter Barendrecht
Amsterdam, 5 november 1965 - Bangkok, 5 april 2009
Deeply saddened we confirm that Fortissimo's company founder and co-chairman Wouter Barendrecht suddenly died on Sunday April 5 in Bangkok, Thailand.
Wouter's passing has shocked his family, his friends and colleagues around the globe.
His passion for cinema, his vision, his energy and his witty humor will be extremely missed by all of us.

On this Memorial website you can share your thoughts and memories with us.

The Fortissimo Family
| | |
| --- | --- |
| Contactperson: | Chris Paton |
| | chris.paton@fortissimofilms.com |
Memorial services

On Wednesday May 13, during the Filmfestival in Cannes we will celebrate Wouter's life and achievements. For more information about the event, please contact info@fortissimo.nl. Please respect the nature of the event.


| | |
| --- | --- |
| Venue: | Plage des Palmes |
| Time: | 3-4 pm |
To honour Wouter's memory, a foundation has been established. The goal of the Wouter Barendrecht Film Foundation will be to support one of Wouter's key missions and goals during his career and that was to encourage the work of talented young filmmakers. This will be accomplished with award grants to be given out on a yearly basis at festivals that Wouter supported and/or worked at or with during his life.

While Wouter loved flowers, we would ask that if you want to honour him, a contribution to the Wouter Barendrecht Film Foundation would be more appreciated and long lasting.

With the support of Fintage, two depository accounts for the Foundation have been established today; the details of which are listed below:
Account holder:
Fintage CAM BV
Reference:
Wouter Barendrecht Film Foundation
Account number:
NL38 FTSB 0241 490677
Bank:
Fortis Bank Nederland N.V.
Blaak 555
3011 GB Rotterdam
The Netherlands
Bic Code:
FTSBNL2R
Account Name:
Fintage Collection Account Management B.V.
Reference:
Wouter Barendrecht Film Foundation
Account number:
368-0-066881-9
CA Bank:
Standard Chartered Bank
(Hong Kong) Limited (003)
4-4A Des Voeux Road Central, Hong Kong
Swift Code:
SCBLHKHHXXX
Éva Deli and Jenő Rácskay
Rest in peace, Wouter. We are deeply sad, our condolences to all.
Christian Meinke
It was a pleasure to work with you, I admired your passion for film. We will miss you.
Andrew Kim
My heartfelt condolence for the sudden demise of Wouter, Great loss to our entire Film Industry.
Damon Chua
Wouter was an amazing, fun and generous individual. He will be missed.
Sean Muramatsu
Mr. Barendrecht will be deeply missed. We had recently met him in Hong Kong during the Asian Film Awards. He expressed his true passion for the arts. It was an honor to share some time with him. Not to mention, his love of cuisine. We had mentioned the difficulty of finding a good place to eat. Instantly, he pulled out and gave us his guidebook of restaurants he recommended. It proves that in times of need, he was the man to count on! Thank you for your passion, Wouter! Rest in PEACE!!
Leon vd Merwe
This is Indeed a great loss not only for the Film Industry but for everyone that knew Wouter ! Rest in Peace Wouter ! Cape Winelands Film Festival - South Africa
Annemie, Jan & Alexander from Lumière
No words are in this appropriate. Special thoughts for all his closest and beloved once who stays with an enormous emptiness. Thanks Wouter for having been with us, we'll miss you through every single detail that raises every day.
Shan Dongbing
Dear Wouter, Your friends in Beijing will miss you forever. Thank you so much for your support to Chinese cinema in the world market.
Susie Tullett
Although I was not privileged to have known Wouter personally, his passion and popularity precede him. His untimely death is a devastating and breathtaking loss and my thoughts and prayers are with his family, friends and colleagues at this sad, and bewildering time.
Michel Burstein
Very very sad to hear about Wouter's death. Such a great human guy, so pleasant to be with and share enthousiasm. Much too young to die, will miss him hips. All encouragements for his family and all Fortissimo people. Michel Burstein - Paris
salim ramia
We are deeply sad to learn the untimely passing away of Wouter. we will always remember him as a friend and colleague and we will miss him . rest in peace dear friend.
Rigo and Terry Jesu and the Intercontinental Team
Wouter, Your presence was marked by grace, charm, compassion and a love for art. Your passing has left a deep void that is an exclamation point of just what an impact you made on us all. You will be missed and remembered, always fondly. Rigo, Terry and the entire Intercontinental Group of companies
Amnon Matalon & the Isaeli Team
Shocked and saddened to learn of this news we are so sorry for this loss. Wouter you will be missed. Deepest condolences.
Ninos Mikelides
My deepest condolences for your loss,
Partho Sen-Gupta
Wish you the best in your new life, Om Shanti!
Elba McAllister
Wouter´s sudden departure for eternal life is a great loss for the cinema industry. His personal and professional qualities will always be remembered. Thanks to Wouter we got to love oriental cinema. We will miss you.
Douglas White
I only knew Wouter casually and through reputation. I am grateful for the positive effect he had on the Hong Kong community and his support of film.
Bryan Chan
Wouter, we always call you "Water" in Cantonese, I guess that means there's nothing can stop you... I guess we always felt, like water evaporates to the sky, we know you'll come back like pouring rain. We miss you and still see you in every way... thank you for the nourishment you brought us and for enhancing the lives of all who called you friend.
Fumiaki Ikeda/NETTAI MUSEUM
I'm sorry to miss a chance to work for his movie finally, though we met each other in every festival. His true love for the movie is always respected and his company is one of ideal result for independent arthouse movie distributor. I believe his peaceful sleep and Fortissimo's further step in our movie world.
Lindsay Shelton
Wouter had so much energy and good humour. And so much enthusiasm for the films which he chose to represent. The Fortissimo logo was at the start of a great movie which I saw in Wellington last week - it reminded me that I hadn't seen him since he came to New Zealand a few years ago and it made me look forward to seeing him again. But now I share the sadness of so many people.
<< Previous
11
|
12
|
13
|
14
|
15
|
16
|
17
|
18
|
19
|
20
|
21
|
22
|
23
|
24
|
25
|
26
|
27
|
28
|
29
|
30
|
31
Next Page
---