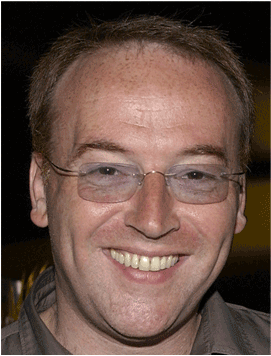 Wouter Barendrecht
Amsterdam, 5 november 1965 - Bangkok, 5 april 2009
Deeply saddened we confirm that Fortissimo's company founder and co-chairman Wouter Barendrecht suddenly died on Sunday April 5 in Bangkok, Thailand.
Wouter's passing has shocked his family, his friends and colleagues around the globe.
His passion for cinema, his vision, his energy and his witty humor will be extremely missed by all of us.

On this Memorial website you can share your thoughts and memories with us.

The Fortissimo Family
| | |
| --- | --- |
| Contactperson: | Chris Paton |
| | chris.paton@fortissimofilms.com |
Memorial services

On Wednesday May 13, during the Filmfestival in Cannes we will celebrate Wouter's life and achievements. For more information about the event, please contact info@fortissimo.nl. Please respect the nature of the event.


| | |
| --- | --- |
| Venue: | Plage des Palmes |
| Time: | 3-4 pm |
To honour Wouter's memory, a foundation has been established. The goal of the Wouter Barendrecht Film Foundation will be to support one of Wouter's key missions and goals during his career and that was to encourage the work of talented young filmmakers. This will be accomplished with award grants to be given out on a yearly basis at festivals that Wouter supported and/or worked at or with during his life.

While Wouter loved flowers, we would ask that if you want to honour him, a contribution to the Wouter Barendrecht Film Foundation would be more appreciated and long lasting.

With the support of Fintage, two depository accounts for the Foundation have been established today; the details of which are listed below:
Account holder:
Fintage CAM BV
Reference:
Wouter Barendrecht Film Foundation
Account number:
NL38 FTSB 0241 490677
Bank:
Fortis Bank Nederland N.V.
Blaak 555
3011 GB Rotterdam
The Netherlands
Bic Code:
FTSBNL2R
Account Name:
Fintage Collection Account Management B.V.
Reference:
Wouter Barendrecht Film Foundation
Account number:
368-0-066881-9
CA Bank:
Standard Chartered Bank
(Hong Kong) Limited (003)
4-4A Des Voeux Road Central, Hong Kong
Swift Code:
SCBLHKHHXXX
donald Ranvaud
In Havana you told it s it as it REALLY is and it was wonderful to see the effect on eager young film makers whom you were so able to encourage and inspire as if it was the first time you ever did such a thing. The magic of the vision and the truth of commitment will stay forever in our hearts. My deepest condolences to the family and your fellow workers past and present - a great family of wonderful human beings
Peter Kostense
We lost a son, a brother, a friend, a mentor, a guide, a coach, a colleague, and so much more. Grateful to you, Wouter, for your friendship and all the wonderful moments, talks, films, you have given us. Life without Wouter is a now life with memories and souvenirs; I hope and wish that these memories and souvenirs will give the strenght to Wouter's family, friends and colleagues to move forward as he would have done, and to enjoy every day as he did and as Wouter would like us to do.
Tobias Lehmann
I'm shocked and deeply sad. Bye Wouter, I'll miss you.
Didier Costet - Swift - France
Our deepest condolences to Wouter's family and colleagues from everybody at Swift. We are shocked and saddened. We will always remember the luck we had to work with Wouter.
Manola Novelli
On behalf of the Delphi Team it is a devasting loss and is really hard to accept that he is not here with us anymore. Our thoughts go to his family, colleagues and friends. We will not forget you!
Masako Kudo(Tokyo Theatres)
I met Wouter in Hong Kong a few weeks ago and he looked perfectly fine and I am very shocked with news. I like to deeply thank Wouter for introducing so many beautiful films to us. May his soul rest in peace.  We miss you so much!
Martin Hagemann, zero fiction film
In remembrance of few but unforgotten meetings, friendly helpful exchanges and fair cooperations on all projects and plans we had together, you will stay with us and the films we produce.
Matjaz Zajec
Dear Wouter, I can not beleive that you left us and I just can not imagine places where films are without your presence, your kindnes, knowledge and understanding; the world of films will not be the same after you left us. Rest in peace my dear friend My deepest condolences to relatives and The Fortissimo Family. Matjaz Zajec TV Slovenija
Ken Sparrow
I am shocked by this untimely news. I have had the priviledge of meeting Wouter on a number of occasions and have admired his knowledge of cinema-making and wish Fortissimo every success in carrying on his vision.
Barbara Robinson
I've been planning the dinner party we were to have next week, tinkering with the menu for about two months, wanting to make seafood in ways that would be colorful and please you and The Diner's Club. I have yet to go shopping, to place my orders, and I am afraid that I could scour the markets and still be unable to come up with that final ingredient that makes the meal sing. It is fundamentally unfair that you are not here because after all you are the person I most want to talk to about my predicament. How do I navigate this complex set of instructions? I am not sure you will have the answer, but I know I will enjoy listening to you all the same.
Irene Papadaki/SPENTZOS FILM SA
I am totally shocked, I cannot believe it! I wish it was a joke of April 1st,but unfortunately it happened on April 5th. WOUTER, have an easy voyage to the clouds!!! I will always remember you!
Eva Esseen
I feel at loss of words and thoughts. Wouter - you helped open up my eyes for filmmakers I had not met before, whom I have since then been happy to work with. I will miss your happy face.
Marc Bary
On behalf of IJswater Films (Amsterdam) we want to express our deepest condolences to the Fortissimo team, family and relatives of Wouter. He was an inspiring man for me when I started as a producer. Rest in peace.
esther kerkhof
wouter - you wonderful shining guy - made the world a better place for filmfans. thank you dear.
Krisztina Páldy
I am shocked and devasteted to read the tragic news. I have known Wouter for more than 15 years, he was one of my first business partners, a real friend, a kind person, a brilliant open mind. I am lighting a candle in his memory praying for his soul and I will remember his smiling face in my heart forever. On behalf of Budapest Film and myself, our deepest sympathy to his family and colleagues!
Selina Willemse
Wouter, wat zal ik je missen! Tschüss. Het is als een zon die ondergaat.
Masa Nagai(Geneon Universal)
My sincere condolences to Fortissimo people. I do rememer the moment we had a press conference for "Last Life in the Universe" in BKK. That was an unforgettable experience you took me toward the spotlight. I am truly proud to have worked with you. Thank you and good-bye,Wouter. masa
Ank Steenbrugge
I am deeply shocked about this very sad news.
Nick Roddick
To say that I'm shocked doesn't begin to cover it. Wouter was a one-off - a lover of cinema who didn't lose that love as the company he founded became more and more successful. Put another way, he used his business genius to enable the creation of great films in a way unprecedented in the recent history if cinema. My love and condolences to all of you at Fortissimo. Don't give up the good fight.
Joke Liberge
A great loss of a greatest person. My thoughts are with his family, his friends and his Fortissimo.
<< Previous
11
|
12
|
13
|
14
|
15
|
16
|
17
|
18
|
19
|
20
|
21
|
22
|
23
|
24
|
25
|
26
|
27
|
28
|
29
|
30
|
31
Next Page
---