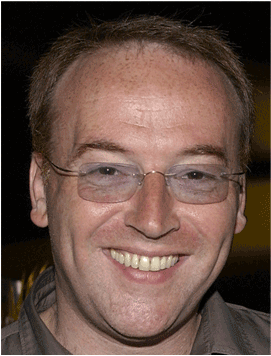 Wouter Barendrecht
Amsterdam, 5 november 1965 - Bangkok, 5 april 2009
Deeply saddened we confirm that Fortissimo's company founder and co-chairman Wouter Barendrecht suddenly died on Sunday April 5 in Bangkok, Thailand.
Wouter's passing has shocked his family, his friends and colleagues around the globe.
His passion for cinema, his vision, his energy and his witty humor will be extremely missed by all of us.

On this Memorial website you can share your thoughts and memories with us.

The Fortissimo Family
| | |
| --- | --- |
| Contactperson: | Chris Paton |
| | chris.paton@fortissimofilms.com |
Memorial services

On Wednesday May 13, during the Filmfestival in Cannes we will celebrate Wouter's life and achievements. For more information about the event, please contact info@fortissimo.nl. Please respect the nature of the event.


| | |
| --- | --- |
| Venue: | Plage des Palmes |
| Time: | 3-4 pm |
To honour Wouter's memory, a foundation has been established. The goal of the Wouter Barendrecht Film Foundation will be to support one of Wouter's key missions and goals during his career and that was to encourage the work of talented young filmmakers. This will be accomplished with award grants to be given out on a yearly basis at festivals that Wouter supported and/or worked at or with during his life.

While Wouter loved flowers, we would ask that if you want to honour him, a contribution to the Wouter Barendrecht Film Foundation would be more appreciated and long lasting.

With the support of Fintage, two depository accounts for the Foundation have been established today; the details of which are listed below:
Account holder:
Fintage CAM BV
Reference:
Wouter Barendrecht Film Foundation
Account number:
NL38 FTSB 0241 490677
Bank:
Fortis Bank Nederland N.V.
Blaak 555
3011 GB Rotterdam
The Netherlands
Bic Code:
FTSBNL2R
Account Name:
Fintage Collection Account Management B.V.
Reference:
Wouter Barendrecht Film Foundation
Account number:
368-0-066881-9
CA Bank:
Standard Chartered Bank
(Hong Kong) Limited (003)
4-4A Des Voeux Road Central, Hong Kong
Swift Code:
SCBLHKHHXXX
Simon Killen - Aztec International
A meeting with Wouter was always something to look forward to in a film market. He always had time for you, he pitched with style and passion. I always felt like I was travelling first class in his company, this is such sad news. Condolences to all who were close to him.
Bruce LaBruce
Although we never worked together directly, Wouter was always supportive of my work, encouraging and enthusiastic. He introduced me to a lot of great people internationally who subsequently showed my work based on his recommendation. I remember fondly in particular my experience of being given a retrospective at the Hong Kong Gay and Lesbian Film Festival several years back. Wouter made sure that I was welcomed and celebrated in a city where my work was still somewhat controversial in terms of its sexual explicitness and political directness. I have so many fond memories of Wouter, extending back to his tenure at the Rotterdam Film Festival. I'm saddened by his premature passing and I celebrate his spirit and energy in the support and distribution of difficult and challenging films. Love you Wouter!! xxx Blab
nicholas chin
Wouter is a hero for young film-makers. I grew up watching his films, inspired by the courage in the choices of his films and thankful for making asian films that are different and that for me made a difference. He was always genuinely warm and supportive of those starting out and honest with his feedback. It is a shock that he has passed away and a great loss.
Jay Kim
You inspired me so much. We will miss you.
Gertjan Zuilhof
Sad to say that you went ahead of us in all respects.
Gertjan Zuilhof
Sad to say that you went ahead of us in all respects.
Stevie Wong
Wouter was one of the first people I ever met at Cannes Film Festival. Even though my work as a journalist rarely intersected with his, Wouter's unconditional acceptance of me into his world was something that I'll never forget. International cinema has lost a great champion. The cinema community has lost a great friend.
John Badalu - Q! Film Festival
My Condolences...May you find peace. Without Wouter's support, my film festival in Indonesia would remain unheard. I'm deeply grateful for what he has done to us. We definitely will miss you, Wouter!
Ada lee
Wouter was a gentle and generous boss. I will miss him especially his smile.
WISEPOLICY, TOKYO
Wou-san, Always Arigatou(thank you)! We are too sad.
Paul Schwartzman
I arrived in Cannes and went right to Fortissimo and Wouter saw I was glum. Rather seriously, he said, "watch this." He quietly adjusted the TV monitor, stepped back, and clicked the remote. "Happy Together" blasted out full force! Wouter grinned, laughed, hopped on the coffee table, and danced!
Alice Bell
Wouter and all of you guys at Fortissimo made our film Suburban Mayhem happen! We feel like part of the family and we will miss him dearly. So many good times, great memories, a lovely friend and I'll never forget his smile. I'm thinking of you guys and missing Wouter. Alice. xxx
Mila Rozanova
Wouter was a very passionate and bright person. It's a great loss for everyone, all condolences to his family.
Silvia Wong
Wouter, your name will always be associated with all you've done for Asian cinema. My sincere condolences to your family.
Richard Tam
You are not leaving us, your smile, your sweetness, your bad cantonese, always in my heart. Thanks for believe me, care me... my dear friend, rest in peace! LOVE & KISS
Elle Travis Peterson
Wouter, thank you for the laughs and great conversations.... you were a true treasure and will be missed. My heart goes out to all of you at Fotissimo, Wouter's family and friends.
Nan
"It was not true", I screamed out when I heard about your departure. I called Winnie and she advised me to pray for you. I did last night and asked God to take care of such a person who carried warm, sunshine-like smile, always with passion for film making and life, as you. Miss you forever! With love and peace!
Hisami Kuroiwa
Dear Wouter: You were trying to make such an vision to the film culture. You were a risk taker, and idealist. You have left memorable footsteps to encourage filmmakers to take risk and understand a real cinema. We shall carry your legacy. I remember our conversation in Grand Hyatt in Tokyo about what kind of effort we have to make to carry for the sake of film culture. Peace and love, Hisami
Runa
Miss you deeply, Wouter
Mark Spratt
I am deeply shocked and saddened by Wouter's sudden passing. We had just set up a Cannes meeting last week. Wouter was an untiring advocate of quality cinema and his loss is inestimable. He was very generous and supportive of my company when we were both quite new on the scene and my sympathies are will all at Fortissimo who I know will continue the good work.
<< Previous
11
|
12
|
13
|
14
|
15
|
16
|
17
|
18
|
19
|
20
|
21
|
22
|
23
|
24
|
25
|
26
|
27
|
28
|
29
|
30
|
31
Next Page
---