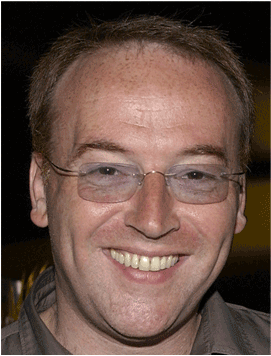 Wouter Barendrecht
Amsterdam, 5 november 1965 - Bangkok, 5 april 2009
Deeply saddened we confirm that Fortissimo's company founder and co-chairman Wouter Barendrecht suddenly died on Sunday April 5 in Bangkok, Thailand.
Wouter's passing has shocked his family, his friends and colleagues around the globe.
His passion for cinema, his vision, his energy and his witty humor will be extremely missed by all of us.

On this Memorial website you can share your thoughts and memories with us.

The Fortissimo Family
| | |
| --- | --- |
| Contactperson: | Chris Paton |
| | chris.paton@fortissimofilms.com |
Memorial services

On Wednesday May 13, during the Filmfestival in Cannes we will celebrate Wouter's life and achievements. For more information about the event, please contact info@fortissimo.nl. Please respect the nature of the event.


| | |
| --- | --- |
| Venue: | Plage des Palmes |
| Time: | 3-4 pm |
To honour Wouter's memory, a foundation has been established. The goal of the Wouter Barendrecht Film Foundation will be to support one of Wouter's key missions and goals during his career and that was to encourage the work of talented young filmmakers. This will be accomplished with award grants to be given out on a yearly basis at festivals that Wouter supported and/or worked at or with during his life.

While Wouter loved flowers, we would ask that if you want to honour him, a contribution to the Wouter Barendrecht Film Foundation would be more appreciated and long lasting.

With the support of Fintage, two depository accounts for the Foundation have been established today; the details of which are listed below:
Account holder:
Fintage CAM BV
Reference:
Wouter Barendrecht Film Foundation
Account number:
NL38 FTSB 0241 490677
Bank:
Fortis Bank Nederland N.V.
Blaak 555
3011 GB Rotterdam
The Netherlands
Bic Code:
FTSBNL2R
Account Name:
Fintage Collection Account Management B.V.
Reference:
Wouter Barendrecht Film Foundation
Account number:
368-0-066881-9
CA Bank:
Standard Chartered Bank
(Hong Kong) Limited (003)
4-4A Des Voeux Road Central, Hong Kong
Swift Code:
SCBLHKHHXXX
Charlie Fung
there are so many inspiring films in my life, and it's because of you. Thank you very much, Wouter. Bye Bye
Matthijs Wouter Knol
Such terrible news, such an inspiring and admirable man! Rest in peace.
Ellen Kim
Rest in peace, Wouter. We will miss you so much.
Richard Payten & Andrew Mackie
We will never forget Wouter convincing us to fly from Australia to NYC for the Rolling Stones concert. Wouter has been a constant presence at festivals and markets around the world for as long as we can remember. We will miss his passion, good taste, humor, honesty, integrity and genuine friendship.
jill zignego
sending lots of love and angel wings to take you on to the big festival in the sky................. to all of wouter's family and friends, here is one gal from montana who will miss him dearly. an incredible man and friend.
Wendy Braitman
I have so many pleasurable memories of Wouter, but the one that floated up today took place during the Jerusalem Film Festival, when Jan Oxenberg, Wouter and I toured through Israel in a rented car. We were told to either pack a gun or pick up a soldier with one. (We chose the latter.) I feel privileged to count myself among his many friends and colleagues. And I'm comforted by the Foundation that will continue in his name.
Eric Lin
You'll always be remembered for your enthusiasm, dedication and friendship. Rest in peace, Wouter.
Andrew Ooi
I saw you just last week and was supposed to see you today. I can't believe that you are no longer with us. If I knew that last glass of bubbly we shared together at Volume was going to be our last, I would never have wanted it to end. Thank you for being such a wonderful friend,... for always being there, and introducing me to new friends whom I know hold dear, and even reconnecting me with my old schoolmates! I miss all those funny email and sms conversations we'd share already. Now, going to a film festival or Hong Kong will never be the same as I won't see you. But rest assure, you will be fondly remembered by us, your friends and chosen family and we will see you again someday. We miss you Wouter, now rest in peace with the knowledge that you have touched the lives of many, and that you are truly loved.
Yvonne Tan
I am deeply saddened. How can this be true? I just spoke to you during the recent HK Filmart and you were your usual witty, energetic self. Dear dear Wouter, you had such passion for films and was such a wonderful and gentle person. I shall miss you greatly and the markets will never be the same without you. My condolences and thoughts to Michael and all at Fortissimo.
Alberto Ramos
Shocked by the sad news on the passing away of Wouter Barendrecht -a close and supportive friend of the Havana Film Festival of New Latin American Cinema. We will always be indebted to him for his dedication to the finest, top auteur cinema, and his invaluable contribution to Asian filmmaking's worlwide recognition. (Alberto Ramos, Programmer La Habana FF)
Joe Ikeda
I would like to extend my deepest sympathy and condolences to Micheal and the whole Fortissimo team. I am truly proud and honored to have worked with you, Wouter.
Daishiro Narita
"Great and thanks See you soon W" was his last note just past Thursday when we emailed each other for Cannes. We worked together on four films in last six years. I just can not believe I will not see his great smile anymore. I will terribly miss him.
Scott Rosenberg, AMW International Co. Ltd. - Phuket Film Festival
Wouter, You will be missed. You and Michael did more for the Asian film community than any other. RIP mate. It is a sad day throughout the region
Anna-Maria Monticelli & Steve Jacobs
Wouter was one of a kind, a great enthusiast, a lover of film, and a giver of warmth and positiveness in a sometimes hard industry. We will dearly miss his humor, encouragement and friendship.
Simon Bross
GRAN HOMBRE LO VAMOS A EXTRANAR
SIMON BROSS
MI MAS PROFUNDO PESAME ES UNA GRAN PERDIDA PARA EL CINE MUNDIAL HIZO DE LO PARTICULAR DE CADA PAIS UNA DIFUSION UNIVERSAL GRAN HOMBRE GRAN PERDIDA SIMON BROSS MEXICO
Norman Wang
You will be deeply missed, Wouter
Brennan Wrenn
Seeing his friendly face above where I leave this message reminds me how lucky I was to have known Wouter. Wouter was a truly special being whose passing is a great loss to us all. I will miss him terribly, but always remember his kindness, his wit and those rare qualities he possessed that made time in his company a joy.
Saw Tiong Guan
Rest in Peace, Wouter.
Meileen Choo
In a business we all know is filled with people who are full of bull, to find a true friend is such a rarity. That rarity was Wouter. We at Cathay Organisation, especially myself, will miss him very much. It is like I have lost a member of my own family. The film world is darker with the passing of this one bright light. Our condolence to MJW, ML and everyone at Fortissimo and especially to Wouter's family.
<< Previous
11
|
12
|
13
|
14
|
15
|
16
|
17
|
18
|
19
|
20
|
21
|
22
|
23
|
24
|
25
|
26
|
27
|
28
|
29
|
30
|
31
Next Page
---