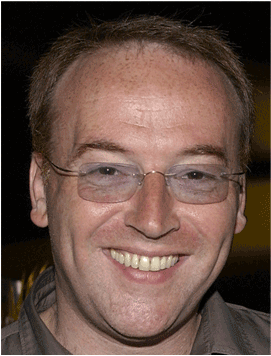 Wouter Barendrecht
Amsterdam, 5 november 1965 - Bangkok, 5 april 2009
Deeply saddened we confirm that Fortissimo's company founder and co-chairman Wouter Barendrecht suddenly died on Sunday April 5 in Bangkok, Thailand.
Wouter's passing has shocked his family, his friends and colleagues around the globe.
His passion for cinema, his vision, his energy and his witty humor will be extremely missed by all of us.

On this Memorial website you can share your thoughts and memories with us.

The Fortissimo Family
| | |
| --- | --- |
| Contactperson: | Chris Paton |
| | chris.paton@fortissimofilms.com |
Memorial services

On Wednesday May 13, during the Filmfestival in Cannes we will celebrate Wouter's life and achievements. For more information about the event, please contact info@fortissimo.nl. Please respect the nature of the event.


| | |
| --- | --- |
| Venue: | Plage des Palmes |
| Time: | 3-4 pm |
To honour Wouter's memory, a foundation has been established. The goal of the Wouter Barendrecht Film Foundation will be to support one of Wouter's key missions and goals during his career and that was to encourage the work of talented young filmmakers. This will be accomplished with award grants to be given out on a yearly basis at festivals that Wouter supported and/or worked at or with during his life.

While Wouter loved flowers, we would ask that if you want to honour him, a contribution to the Wouter Barendrecht Film Foundation would be more appreciated and long lasting.

With the support of Fintage, two depository accounts for the Foundation have been established today; the details of which are listed below:
Account holder:
Fintage CAM BV
Reference:
Wouter Barendrecht Film Foundation
Account number:
NL38 FTSB 0241 490677
Bank:
Fortis Bank Nederland N.V.
Blaak 555
3011 GB Rotterdam
The Netherlands
Bic Code:
FTSBNL2R
Account Name:
Fintage Collection Account Management B.V.
Reference:
Wouter Barendrecht Film Foundation
Account number:
368-0-066881-9
CA Bank:
Standard Chartered Bank
(Hong Kong) Limited (003)
4-4A Des Voeux Road Central, Hong Kong
Swift Code:
SCBLHKHHXXX
Elyse Eisenberg
To Michael and all great friends of Wouter's, my heart goes out to you on this tremendous personal loss - as well as to the enormous loss for the independent film community. With deepest sympathy.
James Schamus
It's simply incredible that world cinema has lost Wouter at so young an age. I remember first meeting Wouter at Rotterdam, twenty years ago. He spoke every language; saw every film; knew everyone at every party. Anyone who came of age in those heady days of independent cinema -- and anyone who has since felt the force of his energy and optimism since, especially, but not exclusively, in Asia -- will see in each others' faces, the next time we meet, the sadness, and gratitude, his passing engenders.
Troy Lum
Wouter was one of the first people I ever dealt with in the business. What a fine introduction. Wouter was passionate about films but he was also passionate about the film business. He loved it. It's a big loss for the industry but a massive loss for all of us who knew him and considered him a friend. My condolences to his family, friends and everyone at Fortissimo.
Johanna Samuel
Such a shock. Am so deeply saddened by this sudden and awful news. There will be such an empty space at every festival we all travel to- Wouter will be missed and remembered profoundly. Johanna
giorgio gosetti - Venice Days
he was not an easy man, but he was a real master, a strong friend for all he loved, a clever man. We will remember him every time we'll meet in markets and festivals, but also when we'll speak about passionate love for cinema, for clever persons, for his beloved company. think to us, dear Wouter, we'll not forget you
Andrew Ross (Screen International)
Thinking of Wouter's family, friends and colleagues at this difficult time. Wouter was passionate about people as he was about film, he connected with so many of us through out the industry, he will be so greatly missed....such a sad time, Andrew & Steph from Shanghai, China
gregg araki
It is almost beyond my comprehension that Wouter is no longer going to be making me laugh and brightening my nights with his smile, quick wit and unstoppable personality. Wherever in the blurry festival world I may have been found myself - Sundance, Cannes, Berlin, AFM, Toronto, Venice - he was always there, a light in the room, an oasis of fun, energy and joie de vivre (and often juicy gossip). Beyond his incredible contributions to the art and culture of international cinema and his support of indie filmmakers like myself (Mysterious Skin would likely never have made it to the screen without him), he was a genuinely wonderful human being and true friend. I miss him already.
Tai Heng
My condolences.
labadie
we loved Wouter for his passion , his fidelity, and friendship . we miss him allready. all our sympathies to his family, friends and collegues. Anne laure and Jean Labadie
Marco Spagnoli, Movie Critic and Journalist, Italy
I express my sincere condoleance for losing Mr.Barendrecht. It is a big loss for the whole cinema community around the World.
Morgan Christie
A wonderful contribution was made to the industry by Wouter Barendrecht - he is most certainly already missed, may his legacy remain for many years to come.
Emmanuel Itier-Wonderland Entertainment
Wouter you shall be missed in the Indie creative genius world of Entertainment and enlightening Cinema. Our warm and deep prayers to your family and colleagues. Peace. Amen.
Cape WinelandsFilm Festival : South Africa
Indeed a great los for the Film Industry ! Rest in Peace !!
Kai Wong
Sorry I never bought you champagne. God bless you sweet sweet Wouter.....
Gamila Ylstra
Wouter - how incredibly sad! I will cherish the memory of the evenings we spent on Mallorca this past October. You spoke so gently about your youth in Holland; especially about your family. I wish them strenght and comfort.
Kai Wong
God bless your sweet soul Wouter.... I'm so very sorry I never bought you champagne.....Will never forget your kindness....and I will keep praying for you.
yuko shiomaki
Wouter, I still remember when you took Palm d'Or for Buenos Aires and on that very moment, I was happened to be there with you at your office, celebrating so happily together. (that was my first Cannes!) I have learned entusiusm for film from you and that experience made me stay in this industry for a long time, and still can't leave my love for cinema away. That was all began because of you. Thank you so much for all of your effort to make an independet film world brightnened. please rest in peace.
Mattias Nohrborg
I am chocked and will miss you Wouter extremely much. We met the first time in 1985, and ever since that I have been inspired by your energy, intellectual strength, kindness and loyalty. We became friends, and stayed so even after i left the business. The huge amount of fantastic films you gave me the opportunity to buy, I still recognize as the best ones around. You had a life project, and I hope The Fortissimo Family and all your friends will continue this vision work. Life is not fair, and I will miss you very, very much.
Gilles Ciment
I met Wouter working with WKW on In the Mood for Love, and then with some other great films coproduced by Paradis Films or distributed in France by Ocean Films, and I've always been impressed by his sensibility, his elegance and his determination. His passing is a very sad loss for all Asian cinema lovers. We deeply will miss Wouter and his passion for cinema. Rest in peace.
Sandy George
Has another whitie ever had your impact in nuturing film from your region of residence and taking it to the world? Congratulations.
<< Previous
11
|
12
|
13
|
14
|
15
|
16
|
17
|
18
|
19
|
20
|
21
|
22
|
23
|
24
|
25
|
26
|
27
|
28
|
29
|
30
|
31
Next Page
---