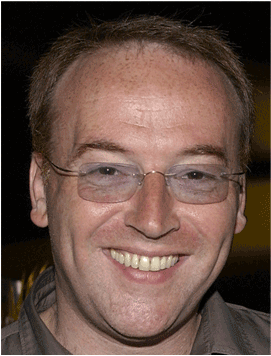 Wouter Barendrecht
Amsterdam, 5 november 1965 - Bangkok, 5 april 2009
Deeply saddened we confirm that Fortissimo's company founder and co-chairman Wouter Barendrecht suddenly died on Sunday April 5 in Bangkok, Thailand.
Wouter's passing has shocked his family, his friends and colleagues around the globe.
His passion for cinema, his vision, his energy and his witty humor will be extremely missed by all of us.

On this Memorial website you can share your thoughts and memories with us.

The Fortissimo Family
| | |
| --- | --- |
| Contactperson: | Chris Paton |
| | chris.paton@fortissimofilms.com |
Memorial services

On Wednesday May 13, during the Filmfestival in Cannes we will celebrate Wouter's life and achievements. For more information about the event, please contact info@fortissimo.nl. Please respect the nature of the event.


| | |
| --- | --- |
| Venue: | Plage des Palmes |
| Time: | 3-4 pm |
To honour Wouter's memory, a foundation has been established. The goal of the Wouter Barendrecht Film Foundation will be to support one of Wouter's key missions and goals during his career and that was to encourage the work of talented young filmmakers. This will be accomplished with award grants to be given out on a yearly basis at festivals that Wouter supported and/or worked at or with during his life.

While Wouter loved flowers, we would ask that if you want to honour him, a contribution to the Wouter Barendrecht Film Foundation would be more appreciated and long lasting.

With the support of Fintage, two depository accounts for the Foundation have been established today; the details of which are listed below:
Account holder:
Fintage CAM BV
Reference:
Wouter Barendrecht Film Foundation
Account number:
NL38 FTSB 0241 490677
Bank:
Fortis Bank Nederland N.V.
Blaak 555
3011 GB Rotterdam
The Netherlands
Bic Code:
FTSBNL2R
Account Name:
Fintage Collection Account Management B.V.
Reference:
Wouter Barendrecht Film Foundation
Account number:
368-0-066881-9
CA Bank:
Standard Chartered Bank
(Hong Kong) Limited (003)
4-4A Des Voeux Road Central, Hong Kong
Swift Code:
SCBLHKHHXXX
Valeria Sorrentino
A camera light has suddenly turned itself off. What a great loos for all of us who knew him and cinema worldwide.
Nitzi & Effi Gila
Shocked to hear the sad news about Wouter. It is a big lost for the film industry. We can`t imagine any film festival and market without his charmimg smile. We remember Wouter as a young talent at the Roterdam Film Festival developing new distibution company, making Fortissimo a leading factor in world production and distribution. We shall never forget him . The Gilad family , Israel
Walter Ruggle
It seems that at a certain age one starts to loose friends, and it also seems that some of the good people one gets to know througout the years, are leaving us much too early. Thanks Wouter for your passions that you were able to share.
Shu Kei
I love you, Wouter and I missed you!
Mark Berridge
A long time client and friend, I know I speak for everyone at Zealot when I say how much Wouter will be missed. This is so sad and our thoughts with everyone at Fortissimo.
Jean-Pierre Grey
I am deeply shocked about this sad news. Wouter brought us two very exciting movies (Ken Park & Mysterious Skin). We loved his taste for outstanding, "different" movies. He will be missing to all filmlovers. Jean-Pierre Grey, Mont-Blanc Distribution Ltd Geneva / Switzerland.
Diana Elbaum
With you Michael, and all the Fortissimo family, with all my heart. Not wanting to believe, feeling empty and lost and just wanting to reach you and hug all of you. Images, laughs, conversations, travels, drinks, endless talks are coming back in waves. Memories, beautiful, wondeful, colorful, of all the moments we spend together. This is such a devastating news, so much emptiness and still so much dreams to achieve if only for you, Wouter. One word is left, from his past and from our future: LOVE.
Wendy Braitman
I have so many pleasurable memories of Wouter, but the one that floated up today took place during the Jerusalem Film Festival, when Jan Oxenberg, Wouter and I toured through Israel in a rented car. We were told to either pack a gun or pick up a soldier with one. (We chose the latter.) I feel privileged to count myself among his many friends and colleagues. And I'm comforted by the Foundation that will continue in his name.
Alessandra Guidoni - Ver Video Magazine / Brazil
Rest in peace, Wouter. May God bless the Barendrecht family during this time and always.
Noah Cowan
Wouter's co-workers were among his very closest family - michael, nelleke, nicole, winnie and everyone else, past and present. and I think we know that they will be especially entrusted with his legacy, especially his belief in the magic of cinema as a transformative power second to none. I have every confidence that, with his spirit in mind, you guys will be even greater advocates for the films and generosity of spirit he championed. Viva Fortissimo!!
Bernardo Zupnik
Deeply painful news and sorrow for the lost of a friend too young I have no more words than tears and deep condolences to all who where with him and knew him. A strong embrace to Michael, Winnie, Nicole and Fortissimo family .- and to you Wouter a sad goodbye, I will miss you. Bernardo Zupnik
Gregory von Hausch, Fort Lauderdale Int'l Film Festival
Always a gentleman - and helped me tremendously. Just a great guy.
Fredell Pogodin
I can't imagine attending a film festival or a market or actually a world without Wouter being around. Wouter always had a way of showing up and somehow making things more lively. I was in Cochin, India, coming out of a traveller's cafe a few days before New Years, not looking forward to spending the holiday completely alone. And there in front of me was Wouter! And the next evening I had one of the nicest holiday dinners with him and his friendsl I also recall wonderful Chinese meals in Toronto with Michael and Wouter and a group of convivial people happy to share a great meal. I will miss Wouter and this comes as a complete shock.
Sydney Levine
Wouter's memory will always remain. He was one of the first to greet me into the international film community. On my first foray as Film Finders in 1988, on the first business dinner, Ellis was bringing him to introduce us and outside Milan's Duomo Hotel I tripped and dislocated my leg from my hip. Wouter, a shade green from his empathy with my pain, and Ellis, instead of taking me to dinner, took me to the emergency room of the Italian Orthopedic Hospital where I remained for 2 weeks in a body cast before finding my way home where I spent another 6 weeks in the cast. Wouter seemed like an intimate friend forever after. And he was always welcoming and reliable in a world that is often not that way. I join everyone in grief for his loss.
Barbara Truyen
I met Wouter in 1990, he was my big example...only 3 years older, he had sooo much experience, was so eloquent and knew where he wanted to go in life, a dutchman abroad, big ambitions combined with a clear passion for film! I went with him and helen to FFSales 1st cannes filmfestival, we were so nervous and excited! and look what an amazing family it became! bravo Wouter! I will miss you and look back fondly at our little tete a tetes and the fantastic sauerkraut we had in HongKong! Luv Barbara
Susan Wrubel
To the global film community, Wouter's untimely death comes as a shock and tragic loss. I am proud to have known and done some business with such a unique and special man. Wouter, you will be missed across the universe. Thank you for everything you brought to the worldwide cinema community.
Lars Bjorck
It was good to know you Wouter. See you on the other side.
Tomohiro Hayashi
It is such sad news I have no word to explain my feeling of lost. I believe his love for cinema is living forever in my friends at Fortissimo and myself.
ilkka jarvilaturi
when i'd showed up in toronto to premiere city unplugged with $5 in my pocket (remainder of the contingency when post-production was completed), it was wouter who picked up the movie, gave me his support - and even a modest advance. thanks for that - & all the rest, wouter. stay happy on la croisette of heaven.
Roberto Prieto
My deepest condolences to Michael, Nelleke and everyone at Fortissimo Films. What a great loss to everyone in the world of cinema. I am deeply saddened by Wouter's passing. May he rest in peace.
<< Previous
11
|
12
|
13
|
14
|
15
|
16
|
17
|
18
|
19
|
20
|
21
|
22
|
23
|
24
|
25
|
26
|
27
|
28
|
29
|
30
|
31
Next Page
---