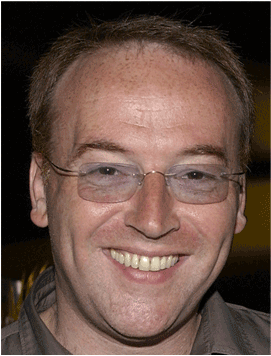 Wouter Barendrecht
Amsterdam, 5 november 1965 - Bangkok, 5 april 2009
Deeply saddened we confirm that Fortissimo's company founder and co-chairman Wouter Barendrecht suddenly died on Sunday April 5 in Bangkok, Thailand.
Wouter's passing has shocked his family, his friends and colleagues around the globe.
His passion for cinema, his vision, his energy and his witty humor will be extremely missed by all of us.

On this Memorial website you can share your thoughts and memories with us.

The Fortissimo Family
| | |
| --- | --- |
| Contactperson: | Chris Paton |
| | chris.paton@fortissimofilms.com |
Memorial services

On Wednesday May 13, during the Filmfestival in Cannes we will celebrate Wouter's life and achievements. For more information about the event, please contact info@fortissimo.nl. Please respect the nature of the event.


| | |
| --- | --- |
| Venue: | Plage des Palmes |
| Time: | 3-4 pm |
To honour Wouter's memory, a foundation has been established. The goal of the Wouter Barendrecht Film Foundation will be to support one of Wouter's key missions and goals during his career and that was to encourage the work of talented young filmmakers. This will be accomplished with award grants to be given out on a yearly basis at festivals that Wouter supported and/or worked at or with during his life.

While Wouter loved flowers, we would ask that if you want to honour him, a contribution to the Wouter Barendrecht Film Foundation would be more appreciated and long lasting.

With the support of Fintage, two depository accounts for the Foundation have been established today; the details of which are listed below:
Account holder:
Fintage CAM BV
Reference:
Wouter Barendrecht Film Foundation
Account number:
NL38 FTSB 0241 490677
Bank:
Fortis Bank Nederland N.V.
Blaak 555
3011 GB Rotterdam
The Netherlands
Bic Code:
FTSBNL2R
Account Name:
Fintage Collection Account Management B.V.
Reference:
Wouter Barendrecht Film Foundation
Account number:
368-0-066881-9
CA Bank:
Standard Chartered Bank
(Hong Kong) Limited (003)
4-4A Des Voeux Road Central, Hong Kong
Swift Code:
SCBLHKHHXXX
Marzia Milanesi
I'll remember Wouter forever; his passion for cinema, his warm intelligence. I'm proud of having shared with him a part - even if very little - of his journey. A big hug to the Fortissimo and DDA Family.
Karin Beyens
Dear Family of Wouter and all at Fortissimo, So terribly,terribly sad. Only the good die young. I'll miss him dearly for ever. He was unique,generous, elegant, a man of the new world. Lot's of love.
Kit Hung
Will always remember your energy, your contributions to the world of cinema, your words to me. R.I.P. Wouther
alexandra rossi
so sad to hear the news. will miss wouter so much. my thoughts go out to his family and all his colleagues and friends.
Said Boudarga
Oh Man, no word can describe the sadness we feel. Such a great and sudden loss. We will remember you for always, but most importantly we must and need to keep your dream alive...May your soul find eternal peace...We will miss Wouter. Said Boudarga Fintage House
Daniel Birman Ripstein - Mexico
Dear Barendrecht and Fortissimo Family: We are very sadden for this loss…he was a great film person, and an incredible human being. We will miss him deeply..
Åge Hoffart
Wouter will always be remembered; as a warm and fantastic man who knew everyone, and always had time for friends - even if there wasn't enough time in the world for all his projects. It seems like only yesterday we celebrated him for three days in Bangkok - a young man of just 40, a man we were going to have a lot of laughs, dinners, filmdeals, parties and serious talks with. I'll miss him. My condolences to his nearest family and his big world family of friends
Elma Tataragic - Sarajevo Film Festival
My condolences and thoughts to all Wouter's friends and family. Wouter was a supporter of our Festival and he was a Jury member of our Competition Program a few years back. It was really great to have him around and talk about the films and filmmakers from my part of the world. We will all miss him.
Doug Witkins
When I first started Picture This in 1996, Wouter dropped by my AFM office and sat with me for an hour, generously sharing his contacts and giving guidance on the global distribution of gay and lesbian product. I'll never forget his kindness and support. To Michael and the rest of the Fortissimo family, chin up; your global colleagues are stand side by side with you today in spirit.
Peter van Vogelpoel
Wouter was a courageous man. A big and sad loss.
Judy Scott
So very, very sorry to hear of this tragic loss. My sympathies to Michael and the entire Fortissimo family. He will be sorely missed. Rest in peace.
Lizzie Francke
I am so very, very shocked and saddened. Wouter was an incredible and inspirational force in shaping current world cinema. He was also someone you loved running into at all those festivals parties - forever entertaining and enchanting. Such a loss...
Maru Garzón
I'm deeply shoked and sad, i'll never forget Wouther's smile as well his charming personality. I 'll remember you. Rest in Peace.
matthias ehrenberg
Very shocked to hear the news. Wouter will be greatly missed, also here in Mexico. I tirless worker and a visionary, an outstanding passion for movies. As a person fun and charismatic, alway there if needed. For the Fortisimo crew, keep up the work, make of this loss a new commitment to continue Wouter's mission. All the best.
Axel Schmidt
Rest in peace Wouter. I'll miss you. Axel
Marlies Oele, Atto Mensah, Jesse, Boaz en Timon
Aan Hans, Wim, Werner en Reinier, Nelleke en Michael, condoleances en heel veel kracht en liefde in deze vreselijke tijd. Lieve Wout, ik koester onze herinneringen en zal je vreselijk missen. x, Marlies
Reinier, Ankie , Loes en Joost
Lieve Wouter Ik zal je missen. Je was een leuke broer en oom. kus Reinier Ankie Loes en joost
Nick Manzi
What a sad day for me personally and for the many people who were lucky enough to know Wouter and be inspired by his taste, intelligence, enthusiasm and, above all, humanity. We have lost one of the "good guys", who enriched cinema as an art form but also our lives too.
Paula & Bernardo Zupnik
To Wouter's family, Michael, Winni, Nicole and all Fortissimo family and friends... our deep condolences and thoughts to all. I am in shock still and deeply sorry. Rest in peace Wouter, my dad and I will always love and remember you with fun and love, much love and three kisses as we always give you.
nansun shi
No words can describe the loss that all of your friends, colleagues and family are feeling right now. Barbara put it so well," that effortlessly, you have put us all together." I have never known someone who has made so many feel that you were their only best friend, ever. The capacity of that is astounding. We shall never be able to go into a bar, an eating joint, a premiere, a press conference, any film-related event, without missing your ever-gracious and loving presence. Ah, Wouter, jt. have a safe trip. We are going to remember you by making better films and championing all your causes.
<< Previous
11
|
12
|
13
|
14
|
15
|
16
|
17
|
18
|
19
|
20
|
21
|
22
|
23
|
24
|
25
|
26
|
27
|
28
|
29
|
30
|
31
Next Page
---