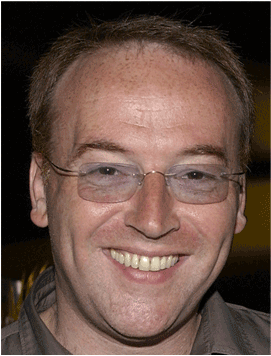 Wouter Barendrecht
Amsterdam, 5 november 1965 - Bangkok, 5 april 2009
Deeply saddened we confirm that Fortissimo's company founder and co-chairman Wouter Barendrecht suddenly died on Sunday April 5 in Bangkok, Thailand.
Wouter's passing has shocked his family, his friends and colleagues around the globe.
His passion for cinema, his vision, his energy and his witty humor will be extremely missed by all of us.

On this Memorial website you can share your thoughts and memories with us.

The Fortissimo Family
| | |
| --- | --- |
| Contactperson: | Chris Paton |
| | chris.paton@fortissimofilms.com |
Memorial services

On Wednesday May 13, during the Filmfestival in Cannes we will celebrate Wouter's life and achievements. For more information about the event, please contact info@fortissimo.nl. Please respect the nature of the event.


| | |
| --- | --- |
| Venue: | Plage des Palmes |
| Time: | 3-4 pm |
To honour Wouter's memory, a foundation has been established. The goal of the Wouter Barendrecht Film Foundation will be to support one of Wouter's key missions and goals during his career and that was to encourage the work of talented young filmmakers. This will be accomplished with award grants to be given out on a yearly basis at festivals that Wouter supported and/or worked at or with during his life.

While Wouter loved flowers, we would ask that if you want to honour him, a contribution to the Wouter Barendrecht Film Foundation would be more appreciated and long lasting.

With the support of Fintage, two depository accounts for the Foundation have been established today; the details of which are listed below:
Account holder:
Fintage CAM BV
Reference:
Wouter Barendrecht Film Foundation
Account number:
NL38 FTSB 0241 490677
Bank:
Fortis Bank Nederland N.V.
Blaak 555
3011 GB Rotterdam
The Netherlands
Bic Code:
FTSBNL2R
Account Name:
Fintage Collection Account Management B.V.
Reference:
Wouter Barendrecht Film Foundation
Account number:
368-0-066881-9
CA Bank:
Standard Chartered Bank
(Hong Kong) Limited (003)
4-4A Des Voeux Road Central, Hong Kong
Swift Code:
SCBLHKHHXXX
Joke & Jan
" Wouter Barendrecht " Your name we willl always remember in combination with "Friendship;tenderness;honesty;sweetness;good food and great wines " Our industry lost a great guy and we someone we kept close to our heart.
Takis Veremis
Bon voyage dear friend. Your smile will be shining upon the rest of us while waiting for the boatman. All of our thoughts to Michael and the Fortissimo family.
Olo Sawa
Really bad news for all asian cinema lovers even in such distant regions like Poland.
Christoph Terhechte
Bye bye Wouter. I'll miss you.
Fabien Arséguel
Dear Wouter, I will never forget you. Love, Fabien
Mike Hogan
What a sad day. We will miss his passion for film, his decency in business, his warmth and his wit.
UGO SORRENTINO
I WILL NEVER FORGET HIS INTELLIGENT QUIPS, HIS BRILLIANT WIT AND HIS LOVE FOR THE FILMS ,THE WAY HE TOLD THEIR STORIES, WHICH WAS A STORY IN ITSELF. HIS SMILE WILL BE ALWAYS PRESENT IN OUR MINDS UGO AND BRUNA SORRENTINO
Bernhard Karl
I am shocked and deeply sad. We just had a great talk at the Filmart in Hong Kong about Fortissimos incredible film collection. I admire this uncomparable life achievement and wish all best to Fortissimo in future. May his work get in the best hands possible !
Hannah McGill, Edinburgh International Film Festival
Wouter was a great supporter of our Festival and a lovely man. He chaired the first international Jury I was part of, and it was a joy to be around him. We will miss him personally and professionally.
Chris Oosterom
Dag Wouter, er was nog zo vel te doen en te ontdekken voor een altijd nieuwsgierige geest als de jouwe. Maar te vroeg heb je deze ontdekkingsreis vaarwel moeten zeggen. Ik zal je in dit leven missen, al weet ik dat je geest blijvend is.
Jennifer Hung
You have always been visionary and daring when it comes to bringing independent films to HK. Many Japanese, Thai, Taiwanese flavors I recall came from Fortissimo. I am glad to have met such a great person in my life. I'll miss you forever. With peace and love to you and all Fortissimo family, Jen
Tony Safford
"I know one day I'll turn the corner and I won't be ready for it" - Jean-Michel Basquiat. None of us were for this shock, pain and sadness.
Ted Hope
Wouter's enthusiasm, passion, and joy --of film and people, of the world around us -- always came through so clearly and largely -- making him a delight to be around. We will miss him, but hopefully the memory of him will instill more of those qualities in all of us.
Michèle et Laurent Pétin
It so happened that we we saw a lot of you this winter, Wouter. We were together last Saturday at your office. We've known each other forever, since we all started! We shared more than movies: books, music, and a passion for mankind. Your humor and your smile will stay forever. This smile of yours, so much like you: honest, open. You were smiling and here you were: a beautiful soul. You're an inspiration. We will miss you, everyday of our lives.
Christine Vachon
I met wouter when I brought POISON to Berlin in 1991. He bounded up to me and said "My name is WOUTER-- it rhymes with SCOOTER!!"and that was that. We shared meals, drinks, hotel rooms--2 weeks ago we spent an evening together in HK and reflected on our long friendship and how far we had both come. This is a devastating loss.
Juan
I am deeply sorry. Rest in peace.
Tim Highsted, Channel 4 Television
A sad loss for us all - Wouter was that rare thing, a true gentleman and a true gentle person. We will miss him profoundly.
Panu
Rest in Peace , Wouter
Rene Mioch
It doesn't happen very often that one meets a kind and outspoken person like Wouter. I first met him through his work for The Mothers of Agentinia. I worked as a radio host a the time. Our worlds were close together and far apart. The difference between commericial tv producer and artistic contributor to the international movieondustry. Every year we've met in Cannes, Berlin, Venice. Nice food, good party, wonderful films. And always a nice gentleman for all the guests. And a great conversation. I really hope there is a next level of growing and living. See you there. Rene Mioch (The Netherlands)
Corey Tong
To Michael W, the Fortissimo family, extended family, friends and colleagues everywhere... my condolences and thoughts to all. I have seen Wouter and celebrated the magic and love of cinema with him in many corners of the world for nearly 20 years, and will remember and hold dear how his influence and vision radiated back to those corners and will continue to move hearts and minds far beyond them. From San Francisco, with peace and love to all... Corey Tong
<< Previous
11
|
12
|
13
|
14
|
15
|
16
|
17
|
18
|
19
|
20
|
21
|
22
|
23
|
24
|
25
|
26
|
27
|
28
|
29
|
30
|
31
---